Armed Forces Day celebrated around Wales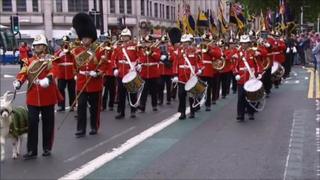 Events have taken place around Wales to mark Armed Forces Day.
More than 600 people paraded through Cardiff city centre, cheered on by hundreds of spectators.
Among them was First Minister Carwyn Jones, who said similar events across the UK recognised "the hugely important roles our armed forces undertake and to show their thanks".
At Bangor University a memorial arch commemorating those who died in World War I was re-opened to the public.
Mr Jones said: "The role played by the armed forces cannot be quantified: they protect our security and defend our freedoms and way of life.
"The exceptional demands placed on the families of those serving in the armed forces should not be forgotten too.
"And we should not forget our veterans, ex-service men and women who have contributed so much in recent and previous campaigns, and who continue to make important contributions to our society."
In Cardiff, Sgt Dai Rees of the Royal British Legion Band said it was interesting to see how support had changed over the past 20 years, with backing "from all nationalities, all types of people".
Flags flown
He said: "People really see and appreciate the work that's done by armed forces."
Vehicles, equipment and techniques used by troops were also on display in Cardiff Castle.
Meanwhile, Bangor University welcomed people to its WWI memorial arch.
Wyn Thomas, pro-vice chancellor of Bangor University said: "This building has rarely in the past been opened to the public, but this is an opportunity to see inside the building because it lists the 8,500 people who were killed in action during World War I".
In Powys, flags were flown at council offices in Llandrindod Wells, Brecon and Welshpool.
Council chairman Barry Thomas, who hoisted the flag at Llandrindod Wells, said: "Armed Forces Day is a day when the whole nation can show support for our military community both serving and retired, at home and abroad.
"I am delighted that we in Powys can show our support for the men and women, past and present, who maintain the defence of our country."