Wylfa B consortium welcomes nuclear site confirmation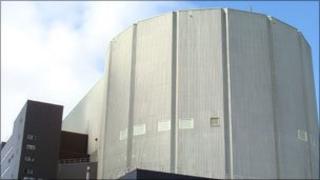 The consortium behind plans for a new nuclear power station on Anglesey has welcomed a UK government decision to list the site as suitable for the next generation of plants.
Wylfa was confirmed among eight sites around the UK, all adjacent to existing nuclear sites, deemed suitable for new power stations by 2025.
Horizon Nuclear Power said its plans could create hundreds of jobs.
But an anti-nuclear campaigner said the case in favour of Wylfa B was "weak".
Horizon, a joint venture between E.on UK and RWE npower, expects its proposals for Wylfa to be available for public consultation early next year.
Chief operating officer Alan Raymant said: "The publication of these statements represents another step forward towards the delivery of new nuclear developments in the UK.
"Wylfa is an excellent site for new build, and the development which we are proposing can have a long-term positive effect for north Wales including bringing hundreds of jobs and millions of pounds of investment into the area."
He said it was right that the industry regulator had delayed approval of the types of reactors proposed "to make sure any lessons learned from the events in Japan can be incorporated, enabling us to set out a clear, confident safety case alongside our planning application".
"New nuclear developments can provide the UK with a clean, secure and sustainable energy future," he added.
It is another step in the process, but not a final decision. The plans will be debated and voted on in Parliament, but ministers hope they will win the argument with a pro-nuclear majority in the Commons.
'Irresponsible'
Carl Iwan Clowes, of People Against Wylfa B (Pawb), said the waste from nuclear power stations created problems for future generations.
"I think that legacy is irresponsible," he said. "I think it makes us vulnerable to accidents, to terrorism, to human error, throughout that period.
"There is still no long-term answer to radioactive waste and there are thousands of tonnes of it now throughout the world."
He said the UK should build up its capacity to generate electricity from renewable sources.
"It's not as though alternative energy doesn't provide jobs as well, and we would argue that alternative energy would provide jobs and be more appropriate and be more sustainable.
"Every which way you turn I think the argument for a new Wylfa is a weak one."
First Minister Carwyn Jones said Wylfa was key to the economy of Anglesey.
"Now the decision has been made that Wylfa is a preferred location for a nuclear power station, we want to make sure this continues," he said.
"We will work closely with all those involved to make sure the local community gets the maximum benefit in terms of jobs, from the building and operating of the new power station through to training and supply chain opportunities."
Welsh Secretary Cheryl Gillan said the UK government was determined to attract investors to provide affordable low-carbon energy as some of the country's generating capacity is lost over the coming years.
She said: "This is great news for Anglesey and the north Wales economy.
"It demonstrates the UK government's commitment to supporting major infrastructure investment in Wales.
"Wylfa is a prime location. Today's announcement will be a huge boost to its workforce and offers the prospect of continued electricity production on the island for years to come."
Local assembly member Ieuan Wyn Jones welcomed the announcement and said he will be organising a meeting with Horizon to discuss the timetable.