Document raises fears over 1,000 HMRC jobs in Wales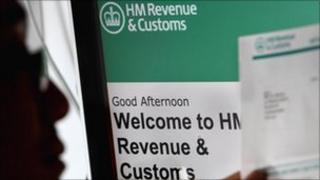 Union members will meet HM Revenue and Customs (HMRC) staff over reports only one of eight sites in Wales is guaranteed to remain open until 2020.
A leaked document lists 16 locations to remain open until 2020, with Cardiff the only office included in Wales.
It raises questions over the future of 1,200 staff at seven offices, including Swansea, where Public and Commercial Services Union members will visit.
HMRC said there were no new office closure announcements.
It has been reported that the "People and Offices Plan" lists the Ty Glas office in Llanishen, Cardiff, as the only office in Wales to be "located until at least 2020".
HMRC also has offices in Prestatyn, Porthmadog, Wrexham, Merthyr Tydfil, Colwyn Bay and Carmarthen.
Porthmadog is where HMRC's Welsh language inquiry centre is based.
'Body blow'
Peter Richards, Wales secretary of the Public and Commercial Services (PCS) union, said: "Why should all public sector workers - or those who remain after the cuts - why should they all be in Cardiff and then places like north Wales and west Wales are deprived of these jobs?
"These jobs are important jobs and if they're lost from places like Portmadog and Colwyn Bay and the others, that's a big effect for those communities.
"They have a very uncertain future now, so I think there's anger, there's fear - morale is low anyway - but this is just another body blow."
It is thought HMRC employs nearly 3,500 people in Wales, almost 2,500 of them in Cardiff.
In 2008, plans to close nine tax offices in Wales were announced, affecting 370 staff.
In a statement, HMRC said: "There are no new announcements of office closures or moves in Wales at this time.
'Too far, too fast'
"The figures quoted are not new, and form part of the ongoing transformation programme improving the efficiency of HMRC."
Geraint Davies, Labour MP for Swansea West, said: "Clearly there is a case being made for job cuts.
"I think that (this) case is one of too far, too fast, and we need to think about the economic impact locally.
"I'll be fighting to protect Swansea and calling for a special report in the Welsh Affairs Select Committee, looking at economic impacts and asking the Inland Revenue to think again."
Plaid Cymru AM for north Wales, Llyr Huws Gruffydd, said: "We in north Wales are being clobbered by the Con-Dem government out of all proportion with these planned job losses.
"Fragile local economies such as Colwyn Bay, Prestatyn and Porthmadog can't take any more cuts as they will impact further on local shops and businesses."
Across the UK, about 20,000 HMRC jobs have been cut in the past few years as part of UK Government efficiency drives and 200 offices have been closed.
Another 12,000 posts are scheduled to be cut by 2015 as part of the government's current programme of reductions to state spending.
The latest document lists the following offices as being located "until at least" 2020: Belfast, Birmingham, Bristol, Cardiff, Edinburgh, Glasgow, Leeds, Liverpool, London, Manchester, Newcastle, Nottingham, Preston, Solent (Portsmouth/Southampton), Southend-on-Sea and Telford.
It says about 80% of the department's staff work at those offices.