Shirley Bassey's early Cardiff years for BBC drama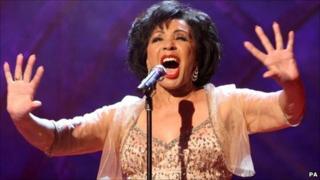 For almost 60 years Dame Shirley Bassey has been one of the biggest voices in music.
Since coming to prominence as a 16-year-old in 1953, she has sold more records - 135m - than any other woman.
She can also boast the greatest span from oldest to most recent chart success, of some 52 years.
Variously portrayed as a diva, a sex symbol and as a tortured, shy person, all of her personas have been informed to some extent by her tough upbringing in the Tiger Bay area around Cardiff Docks, and later just up the road in Splott.
Now the BBC is to show a biopic about her early life; not surprising, perhaps, given its nature.
The factually-based drama is part of a series of programmes commissioned to celebrate ethnic diversity in the UK.
It will show her "difficult rise from poverty to international stardom", as part of a BBC2 season about mixed race life in the UK.
The film will focus on her early life as the youngest of seven children born to a mother from Middlesbrough and a Nigerian seaman father who abandoned the family before she was two.
Single-parent family
Dame Shirley may have given few interviews about her early life, but has on occasions spoken of the poverty and danger she experienced as a mixed-race child from a single-parent family in 1950s Cardiff.
She left school aged 15 and took a job in a packing factory to help support the family.
She became pregnant at 16, allowing her sister to raise her daughter Sharon as her own, until the pregnancy became public in the more liberal 1960s.
A 2010 biography, Miss Shirley Bassey, by Cardiff author John Williams described the violent and often sexually-charged world of sailors and dockers in which she grew up.
However, Betty Campbell, a Butetown community leader and retired primary school teacher, said while she could not speak for everyone in the area, she would not be watching the film.
She said she believed the picture of the area in those days as having been "tough and dangerous" had been "hammed up".
Mrs Campbell also said the people she knows were "not all that interested" in Dame Shirley.
'No real choice'
Mr Williams said he had found there was some opposition towards the singer in her home city, and while researching his book he was struck by how little she had talked about her early years.
She had done so "a little during the '60s, but hardly at all since she became a worldwide household name."
He said: "I think there are two factors which are at work here.
"Firstly the 'Dickensian' childhood was to some extent conjured up by the press, as soon as they heard Tiger Bay; though in truth she'd left there by the time she was a toddler.
"Secondly, I think there is a bit of a mutual sense of betrayal between Wales and Dame Shirley."
He said she had "no real choice but to go where the work was," and she felt "that slightly hostile attitude towards her" from Wales.
Mr Williams said that, as dramatised as the legend of her life had become, her childhood had been "no picnic" because of emotional neglect, poverty, racism and teen pregnancy.
"In 1954 she's a mixed race pregnant teenager, waiting tables and heading down the same road as her mother.
"By 1964, she's singing the theme tune to Goldfinger and is a glamourpuss who's number one on both sides of the Atlantic.
"If that's not worthy of a film, I don't know what is."