Carwyn Jones meets Lord Patten over BBC cuts 'worries'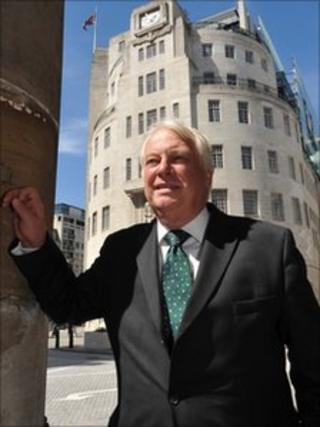 First Minister Carwyn Jones has met with Lord Patten, chair of the BBC Trust, to express his concerns over the future of public broadcasting in Wales.
Carwyn Jones has asked for "full disclosure of the scale of cuts and changes currently being considered by the corporation".
A recently-leaked document sets out how BBC Wales could meet a target to save 20%, but no decisions have been made.
A BBC Trust spokesperson said it was a"constructive meeting".
Unions and politicians have responded to the document, which proposes dropping BBC Wales' current affairs programme Week In Week Out and, among other ideas, suggests scaling back coverage of the National Eisteddfod and Royal Welsh Show.
The corporation-wide cost-cutting exercise - called Delivering Quality First - stems from a decision last autumn to freeze the BBC licence fee.
Following a meeting with Lord Patten on Tuesday, Mr Jones, who also has concerns over future funding of S4C, said: "The changes being proposed have widespread implications.
"There are major implications arising from changes in the funding arrangements of S4C and possible reductions to the BBC's budget.
"When it comes to BBC Wales, I have told Lord Patten of our worries over proposed cuts to its output.
"I want to see full disclosure of the scale of cuts and changes currently being considered by the corporation."
Mr Jones said BBC Wales was one of the most powerful institutions in Wales, with 1,200 direct employees.
"It is by far the biggest player in the Welsh market for television, radio and on-line services," he said.
"It is essential that Wales' elected representatives are fully involved in any changes that may fundamentally alter it."
On S4C, Mr Jones added: "The UK government's proposals that S4C funding should become the responsibility of the BBC have far reaching importance for Wales and the Welsh language.
"It is essential that the editorial and operational independence of the channel continues and its funding is put on a long-term, secure footing.
"And we also believe that there should be a fundamental review of S4C in order to inform the shape of the channel in the future."
A spokesperson for the BBC Trust said: "The Chairman had the first of what he hopes will be a series of constructive meetings with the First Minister where they began a discussion about the state of broadcasting in Wales.
"Lord Patten made clear the commitment of the BBC Trust to high quality broadcasting services in Wales and underlined in particular his personal commitment, and that of the Trust, to engaging in a wide ranging debate about the strengthening of Welsh and English language broadcasting.
"Lord Patten is also looking forward to discussion with S4C, their future partnership with the BBC and the production of popular and high quality programming for the Welsh audience."
Carwyn Jones has previously written to UK Culture Secretary Jeremy Hunt requesting a meeting to discuss broadcasting, which is not devolved.
BBC Wales director Keith Jones has previously said no final decisions are expected "until much later this year and that final recommendations will need the approval of the BBC Trust".
He said there would be "very difficult decisions" to make, but said BBC Wales would consult with unions at the relevant time.
A BBC spokesperson said last month that "no decisions have been taken and therefore these claims remain speculation".