Badger cull should go ahead, say farmers in Wales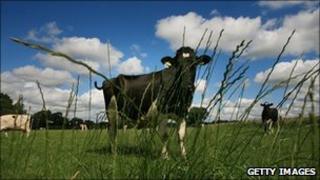 Leading figures in the Welsh farming industry are urging the Welsh Government to stick with plans for a badger cull in north Pembrokeshire.
The Welsh Government is due to make an announcement on bovine tuberculosis (bTB) on Tuesday.
Brian Walters of the Farmers' Union of Wales (FUW) said a cull was the best way to eradicate the disease.
But sheep and cattle farmer Tina Sacco, from Cardigan, said vaccination was the only long-term answer.
Mr Walters, vice-president of the FUW, said a cull was the only answer now and the Welsh Government should stick to the original plan.
He said: "We were told 20 years ago a vaccine was 10 years away, now we're being told it's eight years away.
"The message coming from the chief vet in wales is have to have a cull in the present situation in order to lower incidents of TB in wildlife and cattle.
"We welcome a vaccine if there's one available but it's not there at the moment."
Ms Sacco, who farms sheep and cattle, is keen to see vaccination put forward as a preferred option.
She said: "Vaccination has always been used across the world as a frontline defence against any disease, so why aren't we using it now?
"A cull is not a long-term solution as you will get badgers coming into empty setts so the whole problem will start again.
Baiting system
"New Zealand and Ireland have developed a baiting system with a vaccine that can be fed orally. There's millions of pounds of research that has gone into that and in England they've already spent millions trying to produce a vaccine to cover bTB in badgers, why aren't we using it?"
Cattle farmer Tom Phillips said there was no new evidence to support a change in policy.
Mr Phillips, who is also chair of the Holstein UK Society, keeps his 500-strong Pedran herd of cattle at Cilredyn, Ceredigion.
He told BBC Wales: "We have been tested four times a year for the last 10 years and lost over 200 head of cattle, including show winners and champions and the emotion that goes with that is horrendous.
"We should turn the clock back and do away with protection orders for badgers so some removal can take place and leave healthy areas and healthy badgers alone and in areas like this where we have a really bad breakdown, the adjacent badger sets can be removed.
"There's no new evidence available, just a different administration and they are lacking a bit of spine and the commitment that Elin Jones possessed."
The previous government's proposals to stage a cull were defeated in court and during the election Labour's manifesto promised a "science-based approach" to policy on dealing with the problem.
Environment Minister John Griffiths is due to make a statement on Tuesday afternoon.