Abergavenny cattle market plan decision due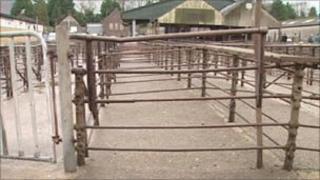 Plans to demolish a town's historic cattle market and replace it with a supermarket, library and car park are being considered by councillors.
Campaigners have fought to save Abergavenny mart but the council has said it is not fit for purpose and would need millions spent on it.
The scheme includes a Morrisons store, public library and 269-space car park.
Planning permission has already been granted for a new market around 10 miles (16km) away near Raglan.
But the Keep Abergavenny Livestock Market (KALM) group has strongly opposed the multi-million pound plans, saying the current 150-year-old mart is "thriving".
Protest marches have drawn hundreds of people and thousands signed a petition.
KALM said 92% of existing market users, and most retailers, wanted to retain the mart, while locals, shoppers and visitors were happy "not to have a supermarket on the site".
In its letter to the council, KALM said: "Loss of the livestock market will have a detrimental impact on the town in that the store will draw those who might otherwise use existing town centre shops and facilities, and loss of farmers' trade."
Abergavenny and District Civic Society has also raised objections, criticising the design of the store and claiming it does not reflect the character and appearance of the town centre.
The society and other groups, such as Abergavenny Chamber of Trade, said the supermarket should be positioned closer to the town centre.
Traffic in the area has also been raised as a potential problem.
However, a report by council officers said a supermarket at the cattle market site would help "claw back a significant proportion of main food shopping trips and expenditure to the town centre".
'Beneficial'
"The council's retail consultant is of the view that the proposed new store is an appropriate and welcome addition to the town centre," it said.
"The new store may generate competition with some existing traders but, in this instance, the impact is considered likely to be beneficial rather than harmful to town centre interests, such competition is an inherent part of retailing."
The report said claims that the loss of farmers' trade to the town centre would outweigh benefits from a new supermarket "have not been substantiated".
The plans have been recommended for approval subject to certain conditions including "the need to ensure that alternative cattle market provision [near Raglan] is reasonably available to the current users of the cattle market site prior to development".
Redevelopment of the site has been proposed for several years but there have been delays as previous schemes have run into problems.
Monmouthshire council's planning committee is considering the plans on Tuesday afternoon.