Elderly care in Welsh NHS: Hospitals face spot checks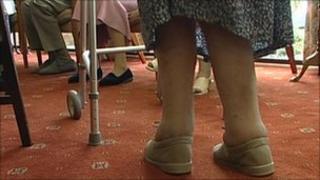 Targeted spot checks of hospitals in Wales to ensure dignity of care for older people are being introduced.
It follows a report by the older people's commissioner for Wales, Ruth Marks, which said some care was "shamefully inadequate".
Recommendations included improving communication and patient privacy.
The report in April, Dignified Care, examined whether older people in NHS hospitals in Wales received care in a dignified and respectful way.
It found that some patients had been degraded and humiliated by their experiences, prompting Ms Marks to call for "fundamental change".
The report said a "lack of timely response to continence needs" and the sharing of patients' personal information within earshot of others were both widely reported.
The following day, public services ombudsman Peter Tyndall revealed that health-related complaints had increased by almost 70% over the past five years.
The commissioner's report made a series of recommendations, including improvements in communication and discharge times, and increased privacy for patients.
The then Health Minister, Edwina Hart, said the recommendations would be considered as part of a drive to improve patient care, but claimed the vast majority of people were satisfied with the way they were treated.
Her successor Lesley Griffiths said the Welsh Government would ask the NHS watchdog to introduce spot checks to ensure that dignity of care for older patients was a top priority for health boards.
She said NHS staff should be allowed to spend more time with older patients to give them the respect and help they deserved.
'Standards of dignity'
But she added that the government would take a "zero tolerance" approach to hospitals falling short on the issue.
"It is never acceptable for older people to feel ignored or ill-treated while in hospital," Ms Griffiths said.
"I am committed to ensuring that they feel respected and are treated with dignity."
She added: "To ensure compliance with recently revised standards, I am asking Healthcare Inspectorate Wales to carry out unannounced spot checks on standards of dignity in care for older people in our hospitals."
Other measures being introduced include a national customer care programme to improve communication with patients and their families, and a dementia care awareness programme for all health workers in Wales.
The minister said improvements were already under way, including more single-sex wards and freedom for charge nurses and sisters to manage their wards.