Gavin Henson to star in UK version of The Bachelor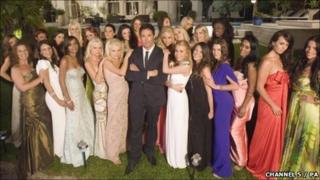 Wales rugby star Gavin Henson is to star in a new TV dating show where he hopes to meet "the right girl".
Henson, who is separated from Charlotte Church, will be The Bachelor in a UK version of the hit US programme.
Channel 5 said viewers should "expect flirting, bitching and heartfelt emotion" as 25 contestants compete to win his heart.
The Welsh Rugby Union said he was fulfilling a work commitment made before he was picked for the squad.
Former Wales rugby international Gareth Llewellyn said Henson's appearance in the show would not sit very well with the Welsh public's expectation of players.
But he added: "What Gavin does outside of his rugby commitments is up to Gavin, it just happens to be in the public eye.
"There are lots of other players who go off and do other things but we don't see that. Gavin just happens to be high profile.
"The important thing about this is it can't conflict with his rugby commitments. There can't be any compromise in the training or the commitment to that cause, if selected."
Henson said: "I'm so excited to have been cast as The Bachelor as I really feel the time is right for me to find a girl to hopefully spend the rest of my life with.
"I've always been dedicated to my rugby and continue to train hard but as the season draws to an end I can focus on meeting the right girl.
"It can be hard in my situation to meet women and The Bachelor will give me the unique opportunity to go on some incredible dates and spend quality time getting to know amazing women from all over the UK."
Among those taking part in the series are models, a web developer and twins who switched from athletics to property development.
It is not the rugby player's first foray into the world of reality TV, having previously featured on BBC One's Strictly Come Dancing and on ITV1 adventure series 71 Degrees North.
In The Bachelor, contestants will be whittled down through a variety of group dates and one-to-one meetings as Henson chooses the ideal partner.
The hopefuls will live together in a villa in southern Europe with Henson based in a nearby bachelor pad.
The former Ospreys player has been included in Wales' 45-man preliminary World Cup squad, and featured in Wales' defeat by the Barbarians earlier this month.
A WRU spokesman said Henson was required to report for training on 30 June, ahead of fixtures against England and Argentina this summer.
The spokesman added: "The squad are currently committed to personalised training programmes in and around prescribed holiday periods, meaning some are already on site at WRU headquarters and others have been given regimes to follow away from camp depending on their personal requirements, like Gavin, or are resting or undergoing rehab.
"Gavin is fulfilling a work commitment which was in place before he was selected for national squad duty and doing so in the full knowledge of the Wales management team.
"He has already undergone periods of extra conditioning work and is maintaining constant contact with the WRU's head of strength and conditioning Adam Beard."