Rain-powered buggies for Brecon Beacons tourists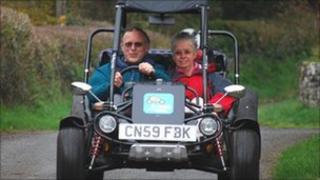 Tourists visiting the Brecon Beacons National Park could soon be seeing the sights on rain-powered buggies as part of an eco trial.
The vehicles, known as b-bugs, have been developed by Peter Williams and Alison Kidd after they won an award at last year's Hay literary festival.
They harness electricity generated by hydropower plants in the Brecon Beacons.
Tourism firms throughout the park are hoping to benefit from their use.
The use of two of the b-bugs named Blodwen and Boris, will form part of a free pilot this summer.
Tourists with UK driving licences will be able to borrow the buggies free of charge for up to five days in exchange for providing their views about the method of transport.
The b-bugs can travel at speeds of up to 30mph and have a range of 20-25 miles. They have also been designed to cope with the undulating terrain of the national park.
A raft of businesses, from cafes to bed and breakfasts, are involved with the pilot and are offering points where the buggies can be recharged.
The concept was dreamt up by Alison Kidd and Peter Williams, who run consumer research company The Prospectory.
Ms Kidd said: "The project was inspired by the concern that exists about how much cars are used in the national park.
"We carried out some research which shows that visitors to the national park last summer averaged more than 300 miles to get here and home again, and more than 300 miles while they were here.
"One of our motivations was whether visitors could travel round in a greener way, but we also wanted to develop a 'not car' for those who commute in rural areas."
They won £10,000 at the 2010 Hay Festival via a Welsh Government Green Dragon's Den award and developed the idea with John Lilly from Dragon Electric Vehicles in Cwmdu, near Crickhowell.
The b-bugs were launched at this year's festival, and bookings have been flooding in for the summer.
They have already been tested by Prince Charles who borrowed one to use on his nearby estate at Llwynywormwood.
Ms Kidd added: "A lot of environmental schemes can be worthy and dull but we wanted something that was green and fun to do.
"They offer a great way of getting out and seeing the scenery and are very quiet so you don't scare off the wildlife."