Parents want action at Ysgol Goronwy Owen in Benllech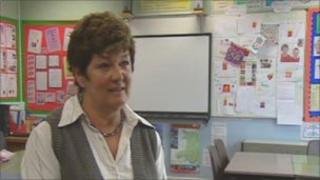 Parents at a primary school on Anglesey say problems must be sorted out quickly for the sake of pupils.
Last month, teachers at Ysgol Goronwy Owen in Benllech who are members of the union UCAC passed a motion of no confidence in the head teacher.
Now the union is asking Ann Hughes to go.
Parents met on Thursday and will meet again next week. Ms Hughes has been asked to comment.
Five out of six staff members are off work with supply teachers doing their work.
A statement from Councillor Ieuan Williams, chairman of the school's governing body, said: "The matter is now in the hands of the LEA [local education authority]. The governing body and the head teacher are co-operating fully with officers of the LEA.
"In the meantime, the school is functioning as normally as possible with the assistance of well-qualified supply teachers who are known to the children and have previously worked at the school.
"Extra-curricular activities and events have been organised and everything is being done to ensure that the education and wellbeing of the children is paramount.
"I still hope that the issue can be resolved amicably."
A spokesman for Anglesey council said it understood parents were worried about their children's education, and the aim of the council was to safeguard the children's education.
The council has secured the services of a strategic head to help at the school.
Parents are due to meet again next Tuesday.