Ofcom mobile proposals 'do not go far enough'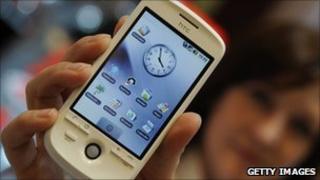 The Welsh Government has told Ofcom its proposals for the future of mobile phone coverage in Wales do not go far enough.
Ministers say the plans don't solve current problems with signal in rural areas and they want companies to face specific geographical coverage targets rather than national ones.
Ofcom is consulting on the licence conditions for new faster mobile broadband services.
It said it would consider all evidence.
The Welsh Government says it wants increased use of "roaming" agreements so that customers can benefit from existing infrastructure without the need for substantial extra investment, which may be uneconomic in many areas.
Enterprise Minister Edwina Hart said in her response to the communications regulator: "We do not feel that the proposals in this consultation document go far enough to address the current issues with rural coverage or in offsetting future mobile broadband notspots.
"We call for Ofcom to set geographic coverage targets or regional coverage targets rather than continue to measure coverage at a national level as the current approach does not meet the needs of rural Wales.
Roaming
"We propose that further work is taken forward by Ofcom to encourage increased use of roaming agreements to ensure that consumers can access mobile services without requiring the industry to build new infrastructure where uneconomically viable."
She said the government wants Welsh consumers to be able to access mobile services and have a choice of providers, adding that the measures outlined in the consultation go some way towards satisfying this requirement, but that more needs to be done.
Telecommunications are not devolved to the Welsh Government, but ministers are conscious that poor mobile and broadband coverage in some areas of Wales is a serious barrier to attracting business and investment.
An Ofcom spokesman said:"We welcome engagement in our public consultation on the auction of the new media spectrum of 800 MHz and 2.6 GHz.
"We look forward to considering the evidence and comments that are being made available to us."