First Minister Carwyn Jones coy on badger cull policy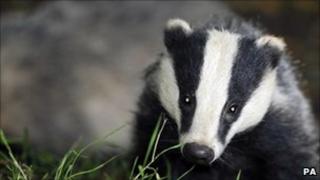 First Minister Carwyn Jones has refused to say if the new Welsh government will go ahead with a controversial badger cull to combat bovine TB.
Plans for a cull are on hold following May's assembly election that ended the Labour-Plaid Cymru administration which introduced the policy.
Mr Jones instead said Labour would base their policy of wiping out bovine TB on science, as set out in their manifesto.
Badgers can carry the bacterium that causes TB and transmit to cattle herds.
"The government's pledge is to consider the science regarding bovine TB," said Mr Jones in response to a question by Plaid Cymru's Llyr Huws Gruffydd.
"This is something that we look at continually, every week, every month to see what the most effective way of dealing with bovine TB is, which is a problem for a lot of dairy farmers in Wales."
The previous One Wales government had planned to carry out a cull of badgers alongside other measures in an intensive action pilot area in west Wales.
Responsibility for dealing with bovine TB has moved from the agriculture portfolio to the environment portfolio within the new Cabinet structure.
The current deputy minister for agriculture, Alun Davies AM is a long standing backer of the cull policy.
The Badger Trust has previously raised concerns over the proposed cull.
In March, a letter to AMs, signed by Steve Clark of Badger Trust Cymru, it said culling badgers is "difficult, unpopular, expensive" and a "step too far".
The Trust claims bovine TB levels in Wales are falling, dramatically in some parts, and that vaccination trials are showing distinct promise.
The letter adds that culling badgers is likely to increase bovine TB in the short term and that it increases the prevalence of the disease in the surviving badgers.
An opinion poll by GfK NOP for the BBC suggests the majority of Britons in both town and country oppose killing badgers.
Government statistics show that the incidence of cattle TB declined slightly between 2009 and 2010, probably due to the escalation of TB testing on farms and restrictions on herd movements.
However, provisional figures indicate that incidence was slightly higher in the first two months of this year than in the corresponding period for 2010.