Welsh hospitals' 'overcrowding' leads to safety concern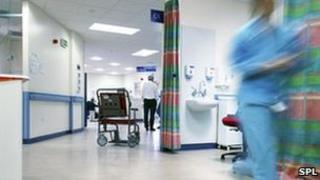 Some Welsh hospitals have become routinely overcrowded, with high bed occupancy rates, figures obtained by the BBC show.
It is leading to concerns over patient safety and operations being cancelled.
Doctors and nursing leaders want change, saying the current system is "at breaking point".
Ministers say there is no official target but hospitals are expected to maintain bed occupancy at "safe and efficient levels".
In some cases the monthly average occupancy rates for acute hospital beds, intended for patients needing immediate care, was as high as 100%.
The Royal College of Surgeons believes that the maximum bed occupancy should not exceed 82%, and says higher rates put hospitals "at risk of grinding to a halt".
Bed occupancy rates in Wales are not routinely published, but were obtained by the BBC under the Freedom of Information Act.
They show that for the whole of 2010, Cardiff's University Hospital, operated at an acute bed occupancy rate of between 92 - 94%.
At nearby Llandough Hospital, the acute occupancy rate was at 100% for three separate months of the year.
At the Royal Gwent Hospital in Newport the acute occupancy rate exceeded 90% for 10 out of 12 months in 2010.
The average acute occupancy rate for both the West Wales General in Carmarthen and Prince Philip Hospital in Llanelli was 87%.
In Powys, the occupancy figures provided cover all hospital beds, and show a 2010 average of 97% for Welshpool hospital, and 95% at both Bronllys and Brecon War Memorial Hospitals.
In north Wales, figures provided by the Betsi Cadwaladr for acute beds show an average occupancy in 2010 of between 81-83% for Ysbyty Gwynedd, Ysbyty Glan Clwyd and Wrexham Maelor Hospital.
"We used to have what we called a winter bed crisis," says Dr Sharon Blackford, chair of the British Medical Association's Welsh consultants committee, "now we have a bed crisis all year round".
"It has got to the stage where we are at breaking point really, it is definitely having an effect on day-to-day running of wards.
"You've got patients who are in the wrong ward," she explains, "you've got patients with acute medical problems who are ending up on surgical wards."
The Royal College of Nursing (RCN) is also concerned by the figures obtained by BBC Wales.
"We're running at an immense pressure on staff," said Tina Donnelly, the director of RCN Wales, who is concerned for the welfare of nurses.
"They're telling us that they simply don't have time to care," she explained. "I've had nurses ringing me in tears, saying that they haven't been able to do certain clinical procedures, where does that leave them in terms of their vulnerability?"
The RCN says it's now time to consider introducing a maximum bed occupancy target of around 82%, something which has not been adopted by the Welsh Government.
In a statement the Welsh Government told BBC Wales that "there is no official target for bed occupancy in hospitals.
'Degree of duress'
The spokesperson said levels of bed occupancy varied considerably from unit to unit depending on a wide number of factors, and rather than impose a one-size-fits-all approach, the Welsh Government expected health boards to manage bed occupancy in hospitals "at safe and efficient levels, whilst maintaining the quality of care and patient dignity".
"The care the NHS provides should also be judged on more than just bed numbers.
"Modern healthcare is about providing more services closer to people's homes, so we are also transferring more services to community settings to reduce the reliance on hospital beds and improve the quality of patient care."
But Colin Ferguson of the Royal College of Surgeons believes a professional standard needs to be introduced across Wales, calling for a review of the issue by the Welsh Government.
"I think the high levels of bed occupancy in Wales that you've noted are probably in some way symptomatic of a system that's under a degree of duress, trying to cope with a very heavy workload," says Mr Ferguson.
He's concerned that too many patients are having their operations cancelled as a result: "The risk to that system is that the whole thing can grind to a halt."
Meanwhile, Conservative health spokesman Darren Millar AM said: "The Welsh Labour Government must now set clear bed occupancy targets in line with the advice from the Royal Colleges and take immediate action to reverse its planned £1bn NHS cuts to the health service in Wales".