'Insignificant' warning to Carwyn Jones in London talks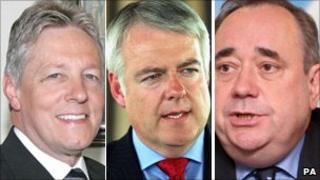 Plaid Cymru has warned that First Minister Carwyn Jones risks appearing "insignificant" at key talks in London.
Mr Jones joins Scotland and Northern Ireland's First Ministers in meeting David Cameron in Downing Street.
It is the first Joint Ministerial Committee (JMC) meeting since last month's elections.
The Welsh Government said Mr Jones had been "working tirelessly" and wanted to ensure the UK government delivered on its obligations.
The three First Ministers met in Edinburgh last week, where the differences in approach became clear.
Alex Salmond's SNP government is pushing for more powers to be handed over to Edinburgh from London - including devolution of corporation tax, a greater share of excise duty and a Scottish digital TV channel.
The Belfast executive, led by Northern Ireland First Minister Peter Robinson, would like to take control of corporation tax rates.
The Welsh Government's main demand is reform of the Barnett formula - which determines how much the administration has to spend - as well as more borrowing powers.
Mr Jones said it was vital the views of all the devolved administrations were respected by the UK government.
Plaid AM Rhodri Glyn Thomas said: "Since the election the Westminster government has been coming under increasing pressure from Scotland and Northern Ireland but unfortunately the message that Labour promised to send on behalf of Wales must have got lost along the way.
"What Labour has so far achieved is to make Wales seem insignificant while other nations lead the debate," he said.
Plaid Cymru wants to offer an alternative to that approach, he added.
"Instead of allowing Wales to be marginalised we should be making it clear to the Conservative and Lib Dem coalition in Westminster, that we are not simply prepared to accept the cuts that they are offering.
"We saw a stark contrast at the recent devolved governments' press conference in Edinburgh between the dynamic approach of leaders in Scotland and Northern Ireland, and that of Carwyn Jones.
Fellow Plaid AM Simon Thomas warned Carwyn Jones was "in danger of leading a one-legged duck government".
"We haven't had one substantive debate. This is not good enough. He said he would get the best deal for Wales," he told BBC Radio Wales.
Mr Jones called on the UK government to honour its promise to "respect" the wishes of the devolved administrations.
Buzz phrase
He said: "Each administration represented today will of course have their own views on what priorities and issues matter most to them.
"However, one thing is clear to me - only by maintaining the principles of mutual respect and communication will we be able to work together."
Mr Jones added that the "respect agenda cannot be just a buzz phrase used on these occasions, but must have real meaning".
He said it was "vital" to build on the respect agenda and approach discussions on substantive issues in good faith.
"It is time for us to make progress on the serious financial, constitutional and policy challenges we face," he added.
The JMC was created in 1999 to provide a forum for the devolved administrations to air differences and settle disputes with the UK government.
A Welsh Government spokesman said the First Minister would shortly be setting out a detailed legislative programme, aimed at protecting public services, growing the economy and providing new opportunities.
"Since his appointment, the First Minister has had a packed agenda - meeting with leaders of the other devolved administrations during last week's recess, attending the formal opening of the National Assembly yesterday and meeting a delegation from China as part of our efforts to protect the rural economy and open up lamb exports to China," said the spokesman.
He said Mr Jones was meeting the Prime Minister "to reiterate the need for a fair funding package for Wales and ensure the UK Coalition Government delivers on its obligations".
The spokesman added: "Since the election on 5 May, the First Minister has been working tirelessly to establish a government that will deliver for Wales."