Ffestiniog and Welsh Highland Railway crossing warning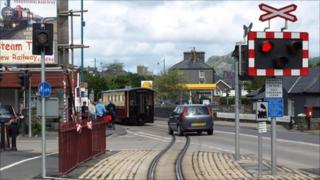 A heritage railway has warned motorists are risking their lives after a car followed one of its trains over level crossing.
The incident, with red lights still flashing, was photographed by Ffestiniog and Welsh Highland Railway, two days before an awareness event.
The safety conference aims to reduce deaths on railway level crossings.
Andrew Thomas, from the rail company, said anyone using a level crossing "needs to have their wits about them".
The company said a car was photographed travelling behind a train on a crossing with red lights showing. The police have been informed.
There are different kinds of crossings, including small private ones, with 130 on the Ffestiniog and Welsh Highland.
These often have private land on either side and only service a small number of properties.
'Risk life'
On Wednesday delegates at a safety awareness event in Porthmadog will be taken to the Minffordd level crossing just outside Porthmadog.
There a train will be butted up against a car to re-enact an accident on a level crossing.
Later safety advice will be shared by the Ffestiniog and Welsh Highland Railways, UK Power networks and the Environment Agency.
Although the event, organised by the Institution of Occupational Safety and Health (IOSH) North Wales Branch, is mainly aimed at workers using smaller private crossings, the message is the same for all users, Mr Thomas said.
No-one should ever risk life when using the crossings.
"No-one should ever assume they know the timetable," he said.
On Monday morning he said an incident, whilst the Ffestiniog and Welsh Highland Railway was testing a new carriage, highlighted another problem on crossings.
While Mr Thomas was taking photos, he said a car was spotted following the train across the crossing, with the red lights still flashing.
"I was rather surprised, because although we've had this type of thing happen before, we thought it was in decline," he said.
'Irresponsible thing'
Mr Thomas said if drivers were jumping lights because they were in a hurry they should think "Are they in a hurry to end up in hospital?".
"It's a pretty irresponsible thing to do and if there are passengers on board they could be hurt too," he added.
Chairman of the Institute of Occupational Safety's North Wales Branch Sandy Jennings said there was a need to "get the message across" to people who did not realise the risks involved with level crossings.
"People don't realise how quickly a train can be upon them and how they should actually use the crossing. There are some where gates come down on crossings and they're dodging through."
Mr Jennings added that people taking risks at level crossings not only endangered their own lives but their actions also cause a train derailment.
Network Rail also warned in February that there were 204 incidents at Welsh crossings in 2010, many involving vehicles.
In September 2009 a pensioner died after her car was hit on a level crossing near her home in Penrhyndeudraeth.
The Rail Accident Investigation Branch (RAIB) launched its review of safety at the level crossing in the days following the death of Sally Hudson.
A later inquest heard that there was a telephone stationed at the crossing, which was supposed to be used before anyone ventured onto the line.
However, the RAIB investigation found that the phone had not been used since August 17 that year, and had not been used by Mrs Hudson on the day she died.
An inquest into her death found that she may have been "too familiar" with using the crossing for almost every day for 40 years.