Urgent works order for former North Wales Hospital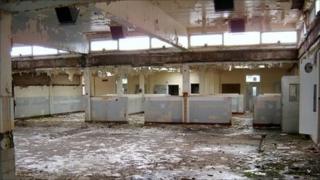 Denbighshire council is threatening to step in to protect Denbigh's former Victorian psychiatric hospital.
The authority has issued an urgent works notice to the owners, saying it intends to enter the former North Wales Hospital to carry out essential work.
Officials plan to make the main building weather tight amid concern about its deteriorating condition.
It is understood the owners of the site have not responded to warning letters from the council.
Denbighshire conservation architect Phil Ebbrell said: "It is disappointing that this has become necessary but despite several requests and two warning letters the owners have taken no action, therefore, there is no alternative for us but to use the powers in the listed building legislation to ensure that the work is done."
Unless the owners, Lancashire-based Freemont Denbigh Ltd, take action, the authority plans to carry out the work which includes a new security fence within two weeks - and send them the bill.
Last December, the council issued another urgent works order to carry out a survey of the building and to advise the owners on work needed.
North Wales Hospital, built in 1844, has been vandalised, looted and fire damaged since it closed in 1995.
Developers had planned build up to 280 homes, businesses and community facilities on the site.
No work has been done and planning permission has since lapsed.
In November 2008, the main hall in the building was destroyed in a blaze which required 50 firefighters to bring it under control.
BBC Wales has made attempts to contact the owners for comment.