Third osprey chick hatches in the Dyfi valley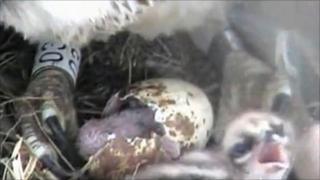 A third osprey chick has hatched at a nature reserve in Powys amid concerns they are not being fed properly by their parents.
The first bird emerged at the Cors Dyfi reserve near Machynlleth on Sunday, followed by a second on Monday.
It is understood to be the first time in 400 years that ospreys have bred in the Dyfi valley.
But experts said the inexperienced adults were having trouble feeding, but they were improving.
The birds set up home on a 50ft (15.2m) tall man-made nest at the Cors Dyfi reserve earlier this year.
Wildlife experts had been waiting two years for romance to blossom when at Easter adult ospreys Monty and Nora produced three eggs.
Emyr Evans, of Montgomeryshire Wildlife Trust's Dyfi Osprey Project, confirmed the latest arrival on Tuesday morning.
"We thought it (the third egg) was a dead egg because it should have hatched by now," Mr Evans said.
"It was amazing to see the third chick hatching and the 50 or 60 people here watching were clapping and cheering.
"I am a bit concerned the chicks are not being fed properly, but last night Monty and Nora started showing signs they were getting to grips with it. I'm a lot more positive now."
He said the chicks had not fed on Tuesday, but Monty had "gone fishing".
Mr Evans said Nora had even practiced feeding her chicks on the side of the nest.