Deal 'secures' 100 jobs in Machynlleth, Powys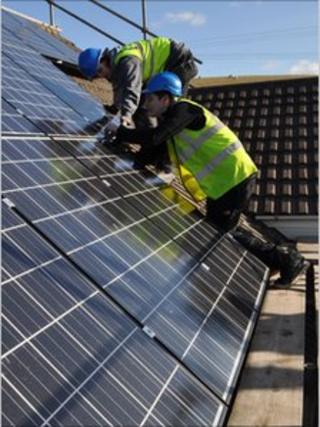 A German company has taken a majority stake in a division of a renewable energy firm, securing jobs in Powys.
Most of Dulas Limited's 100 staff are employed in Machynlleth, Powys, and the company says it hopes to create more jobs.
MHH Solartechnik, which is based in Munich, has invested in the part of Dulas supplying solar panels.
The new company will be known as Dulas MHH Ltd, and is looking to employ new sales, marketing and technical staff.
Dulas's turnover from work on solar, wind, biomass and hydro projects stood at £22m last year.
Dulas MHH Ltd said the partnership would benefit from the "maturity of German experience in logistics, economies of scale, product portfolio and security of supply."
Dulas director Guy Watson said: "The cultural fit between Dulas and MHH Solartechnik is perfect."
He said both companies had a "shared ideology" over product quality, customer relationships, and being "very ethical organisations".
Staff numbers at Dulas have grown from 15 to 100 during the past 10 years. The company also has a base in Stirling, Scotland.