Campaigners take S4C cuts fight to the European Union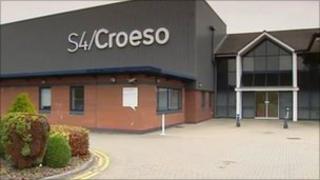 Welsh language campaigners are taking their battle against cuts to S4C's budget to Europe.
Members of Cymdeithas yr Iaith Gymraeg (the Welsh Language Society) will meet the European culture commissioner in Strasbourg later.
They will ask the EU to act on claims the UK government has broken a key commitment to the language.
The Department for Culture, Media and Sport (DCMS) said it is "committed" to an independent service.
Cymdeithas yr Iaith Gymraeg said the cuts would see a sharp drop in the Welsh language TV service compared to 1998 when the UK signed a charter.
"Under European rules there's a duty on the UK government to protect the future of S4C, the world's only Welsh language TV channel," said chair Bethan Williams.
"[UK Culture Secretary] Jeremy Hunt's proposed legislative changes threat the channel's future; they give ministers carte blanche to end the service by starving it of money.
"That's completely unacceptable. People in Wales have rights to TV and radio services though this treaty and the government in London must stick to its promises."
"A minority group needs a guarantee that they will have the right to the same quality of media as people in other languages.
"But, that European guarantee risks being removed by the [Public Bodies] Bill: a minister can cut the channel's funding at will and destroy its independence with a BBC takeover."
In 1992, the UK Government ratified the Council of Europe Charter for regional or minority languages.
S4C currently receives most of its funding from a government grant, worth about £100m in 2009/10.
But it faces a 25% budget cut by 2015 as part of last autumn's Spending Review by Chancellor George Osborne.
And from 2013, most of S4C's funding will come from the BBC licence fee with the Department for Culture, Media and Sport reducing its grant by 94% over the next five years.
Campaigners will meet European culture commissioner Androulla Vasilliou on Tuesday and European charter secretariat Alexey Kozhemyakov on Wednesday.
A spokesman for the Department for Culture, Media and Sport (DCMS) said: "The government remains committed to a strong and independent Welsh language TV service, but has concluded that the S4C model is not sustainable in its present form.
"We believe that a new partnership model with the BBC is the best way of securing the long-term future of the service."