Colwyn Bay pier ex-owner Steve Hunt 'on hunger strike'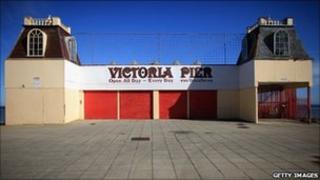 The ex-owner of a Colwyn Bay pier says he has gone on hunger strike in protest against Conwy County Borough Council.
Victoria Pier has been closed and in the care of trustees since Steve Hunt was made bankrupt in 2008, after a business rates and council tax row.
Mr Hunt wants an inquiry into the council's actions over the delapidated pier.
The council says it will try to do the best thing for everyone in Colwyn Bay. It will hold a meeting on Wednesday.
Originally built in 1900, the pier was once a hub of Colwyn Bay's social life, hosting stars such as Morecambe and Wise, Ken Dodd, Harry Secombe, Motörhead, and Elvis Costello.
But, following Mr Hunt's bankruptcy order, five years of work to restore it came to an end.
Basic renovation of the pier, currently in the care of bankruptcy trustees Royce, Peeling and Green Ltd, would cost an estimated £3.5m.
The pier could still return to Mr Hunt's ownership, if it is not sold.
'Airbrushed out'
Now Mr Hunt says he is going on hunger strike, refusing to eat or drink anything except water, until the council is investigated.
"What I want is an official public inquiry launched," he said.
He claimed there was "overwhelming evidence of wrongdoing" by the council.
"I've tried for as long as I've had it to negotiate. They refuse to deal with me," he said.
Colwyn Bay MP David Jones said there had been "insufficient engagement" with Mr Hunt regarding the pier's future, adding that he had been "airbrushed out of the process".
The council is due to hold a special meeting on Wednesday to decide on the best way forward, but it says it is trying to do the best thing for everyone in Colwyn Bay.