'Huge hike' in cable rail thefts in Wales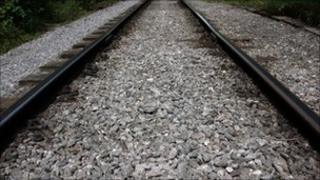 Overall crime on Wales' railways is decreasing but there has been a 'huge hike' in cable theft, say British Transport Police (BTP).
The thefts have increased overall crime figures despite a drop in the numbers trespassing, stone throwing, causing obstruction and line-side vandalism.
In total 209 cable thefts were recorded in Wales last year, up from 78 the year before - an increase of almost 168%.
Similar figures are reflected across Britain.
"The continued reduction in crime is very good news, but economics is having its effect," said BTP sector commander for Wales, Ch Insp Sandra England.
'Real challenge'
"We know that during difficult economic times acquisitive crime is likely to increase, and these figures show that," she added.
Ch Insp England said "notifiable crime" had increased by 191 crimes, but 131 of these were accounted for by cable theft.
"Cable theft is a real challenge for us, the rail industry and other utilities as the record price of metals on world markets has made this type of crime seem increasingly attractive," she added.
The thefts cause "significant destruction" to rail services, she said.
"It means real consequences for real people - missed business meetings, family celebrations and appointments for instance, not to mention the huge financial costs to the rail industry," Ch Insp England added.
There is also a danger to the thieves and increased resources had been devoted to address the issue, she said.
Across the UK there were 2,712 cable thefts in 2010/11 compared to 1,593 in 2009/10.