Venice Biennale: Tim Davies show's 'terrific' response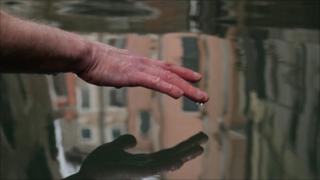 A Swansea-based artist who is representing Wales at the Venice Biennale has praised his reception there as "terrific".
The biennale is considered the most important event on the international contemporary visual arts calendar.
Tim Davies' show includes two pieces inspired by the Venetian city.
'Drift' gives audiences an unusual view, whilst 'Frari' is a result of an 'emotional' visit to the inside of a little-seen landmark bell tower.
It is only the fifth time that Wales has staged an exhibition in the festival's 54-year history.
Davies, head of fine art at Swansea Metropolitan University, was chosen as Wales' representative from a shortlist of just over 30.
The artist has just returned to Wales after the show's opening.
He said the initial response to his work had been "terrific, it's been full-on but I've had extremely good responses".
The work will stay on display in Venice for six months and Mr Davies will travel back to Italy in August.
One of the two pieces created in response to the city is 'Drift'.
The silent film takes an unusual perspective on the city's architecture.
"The camera shot was about an inch above the surface of the water and the hand virtually in the water," said the artist.
"The angle of the shot showed the architecture of Venice in the reflection on the water and then when the hand went to grasp the object the ripples caused the architecture to deconstruct," he added.
Mr Davies said that in 20 years as an artist he had won many accolades and awards but the Biennale was "the world's biggest art event".
"To have a solo show, and represent your country, and to get to show the range of your work is extraordinary," he said.
Another piece "Frari" was filmed inside a 1396 bell tower which the public are never allowed to enter.
It was "quite emotional being inside... it was very beautiful", he added.
Fittingly, for the city of bridges, another of Davies' installation features "post cards of bridges from all over the world".
"They are elements of architecture we all use, but beyond the physical they have a semantic function... a connection of land, people and culture."
Despite the success of his latest show, and interest from galleries from France, Berlin and New York, Davies said he "never takes it (the art) for granted".
"It's a lot of work, even though it looks simple in form. I never abuse my muse," he added.
David Alston, art director of the Arts Council of Wales, said Davies had "realised a set of stunning works".
"Bringing off the exhibition has entailed a really demanding schedule for the artist and everybody working on the different aspects of the project," he said.
"But this will have a dividend for the artist and all involved, and for the visual arts in Wales," he added.