Dyfi osprey produces first osprey chicks for 400 years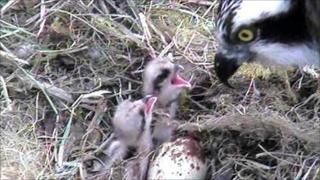 Wildlife experts are celebrating the arrival of two osprey chicks at a nature reserve in Powys.
Montgomeryshire Wildlife Trust said it was the first time in 400 years the birds had bred in the Dyfi valley, near Machynlleth.
The trust had been waiting two years for romance to blossom when at Easter adult ospreys Monty and Nora produced three eggs.
Wales' other breeding ospreys are in Glaslyn Valley near Porthmadog.
The birds in Powys set up home on a 50ft (15.2m) tall man-made nest at the Cors Dyfi reserve earlier this year.
On its website, Montgomeryshire Wildlife Trust's Dyfi Osprey Project said: "On Sunday 5 June, at 1:10pm, the first osprey chick began to make its way into the world.
"Within two hours, the first chick had emerged, closely watched by proud parents Monty and Nora.
"The second chick finally struggled free of the egg at 6:35am on Monday 6 June."
Dyfi Osprey Project manager, Emyr Evans said: "This is a wondrous event for us, and for the ospreys.
"It was in 1604 that ospreys were last recorded breeding on the Dyfi and now we are witnessing history in the making.
"The osprey is Wales' rarest bird of prey and today we are delighted to be able to say that Wales has two breeding pairs. It's incredible to think that the last time an osprey chick hatched in the Dyfi estuary, James I had just succeeded Elizabeth I to the throne."
Monty returned from his African wintering grounds on 6 April, and just three days later managed to attract a female, Nora.
Nora was born at Leicester and Rutland Wildlife Trust in 2008. Her father was born in 1997, is still breeding at Rutland Water, and has fathered 23 chicks to date, Mr Evans said.