Powys 'Fatal 4law' campaign on irresponsible drivers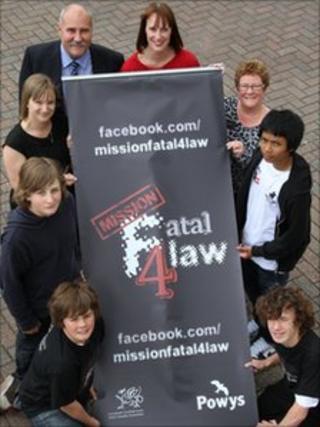 Teenagers in Powys travelling in cars with "irresponsible drivers" are being urged to speak up amid concerns about an increase in road crashes.
Powys council said the number of young people killed or injured on roads in the county had grown in recent years.
In response it has launched a campaign, Mission: Fatal 4law, offering help and advice on Facebook.
A video has also been filmed by actors in Llandrindod Wells, and local band The Hostages have written a song.
Last year a Cardiff mother who lost her 16-year-old son in a crash urged young people to have the "courage" to get out of a car if they were worried about the driver.
Angela Smith's son Kyle was a passenger in a car driven by a teenager who lost control in Cardiff in 2005.
'Worrying statistic'
Alyson Broome of Powys council's road safety unit said: "The increase in the number of young passengers injured on our roads is a worrying statistic.
"When you get into a car as a passenger, you are handing over responsibility for your life to someone else.
"We want to show our young people here in Powys that even if they don't drive, they still have a voice when it comes to their own safety.
"Signing up to the Facebook campaign will enable them to access a whole range of advice and suggestions on alternative ways of influencing other people's behaviour should they not have the confidence to speak up."