Welsh Artist of Year: Fleece painter Paul Emmanuel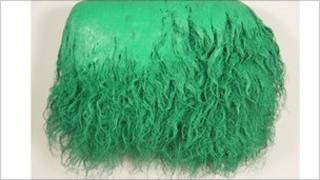 A Swansea valley-based artist who paints on sheep fleece has been named Welsh Artist of the Year.
Paul Emmanuel, from Penycae, collects fleeces from barbed wire fences and backcombs the wool with oil and a hairbrush before applying the paint.
His Penrhiwllythau painting, named after the farm which supplied the black Balwen fleece, beat 400 other entries to win the £2,000 prize.
Six other prizes were awarded at St David's Hall, Cardiff, on Sunday.
Mr Emmanuel, who grew up in Port Talbot and studied art at London's Goldmiths College alongside Damien Hirst, was inspired to start fleece painting while walking around the country lanes and fields surrounding his farm.
He said he was "thrilled" to win the award.
"It's an important title to win and I hope it exposes my work to a wider audience," he said.
Judge Emma Geliot described his work as "eye-catching" adding that the meaning becomes apparent on closer inspection.
"Through the use of the colours used to mark sheep on the hills around his rural home these strands are beautifully brought together," she said.
'Hair-dos for sheep'
Mr Emmanuel first started collecting fleece caught on barbed wire fences whilst out walking near his home.
He discussed his ideas with a barmaid in his local pub, who said her grandmother owned a sheep farm.
"The next day a little 72-year-old woman turned up with six lovely full fleeces and that's when I started really getting stuck into working with the whole articles," he said.
"I see them as hair-dos for sheep. By giving them names of local farms I try to keep their rural identity."
Brecon-based silversmith Pamela Rawnsley won the runner-up and applied arts prize with her entry Three Vessels - three large silver gilded bowls.
The award for drawing went to former curator of the British Art Show Jacqueline Poncelet for her painting Bryn Ogwyr, which was inspired by her home in Ogmore Vale.
German photographer Eva Bartussek, who is a mature PhD student at Swansea Metropolitan University, was presented the photography prize for Welsh Dresser, a photograph of her eight-month-pregnant friend taken in a field at night.
French artist Pascal-Michel Dubois, who is based in Nelson, won the printmaking prize for Meteor III, a digital photo montage 360 degree panorama of a tree which seems to float in the air.
The student prize went to Swansea Metropolitan architectural glass MA student Rhian Haf of Gwythevin, Abergele, for her glass sculpture Glass, Light and Space - a group of glass houses cast using an ancient lost wax technique.
A new category prize of mixed media was won by Aled Simons, Swansea, for a collage titled The Arrangement.
Judges for the competition's 11th year included ceramicist and winner of the Welsh Artist of the Year 2007 Walter Keeler; Blown magazine deputy editor Emma Geliot; artist, musician and gallery owner Chris Brown; drawing prize 2009 winner Owen Griffiths and exhibition curator Ruth Cayford.
The winning entries will form the centre piece of the Welsh Artist of the Year Exhibition 2011, which runs at St David's Hall, Cardiff, from Monday 6 June until Saturday 6 August.
The exhibition features the work of all the prize winners plus more than 80 other pieces to make the shortlist.
Elfyn Lewis won Welsh Artist of the Year 2010 for his acrylic painting Pwll Crochan.