John Cooper's 'connectivity' to Tooze murders explored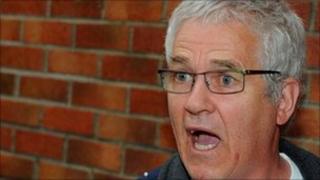 Police are examining whether a man who murdered four people in Pembrokeshire in the 1980s has any connection to the unsolved killings of a couple near Bridgend in 1993.
John Cooper, 66, from Letterston, was jailed for life last month for the double murders in the 1980s.
Detectives are now looking at any "connectivity" with the deaths of Harry and Megan Tooze in Llanharry.
Their killer, or killers, have never been traced.
The Toozes' future son-in-law Jonathan Jones was jailed for their murders in 1995, but released in 1996 on appeal.
Since Cooper's conviction, police have already said they may reopen an inquiry into the death of a woman, Florence Evans, who lived near him.
Cooper, 66, shot brother and sister Richard and Helen Thomas at their secluded mansion near Milford Haven just before Christmas 1985, and, nearly four years later, killed Oxfordshire holidaymakers Peter and Gwenda Dixon on the Pembrokeshire coastal path.
At the end of his trial at Swansea, the farm labourer was also convicted of separate charges of rape, sexual assault and attempted robbery.
The bodies of the Toozes, an elderly farming couple, were found in a cowshed after neighbours heard gunshots coming from the area in July 1993.
Det Ch Supt Sally Burke said: "During Operation Ottawa, which was the Dyfed-Powys Police investigation into John Cooper, South Wales Police liaised with the senior investigating officer, Detective Chief Superintendent Steve Wilkins.
"Discussions have taken place in order to explore any connectivity with the Pembrokeshire offences and the murders of Harry and Megan Tooze in Llanharry, on July 26, 1993.
The detective added: "At present there are no plans to link the investigations, though information is being assessed and researched by detectives to identify any potential relevant lines of inquiry.
"If anyone does have any information that they feel could assist the police concerning the murders of Harry and Megan Tooze, then they are asked to contact specialist crime investigations on 101, or Crimestoppers on 0800 555111."
After he was released by the appeal court, Jonathan Jones went on to marry the Tooze's only daughter Cheryl, who had campaigned for his release.
Lawyer Stuart Hutton, who represented Mr Jones, welcomed the latest police action, and said there were similarities between the Cooper cases and the Tooze killings.
He said these included the fact the Toozes were shot at "close quarters" in their remote farmhouse and that attempts were made to hide the bodies.
"The other thing is there are very few double shotgun murders nationally," he added.
"It's quite an unusual crime and it deserves serious and careful investigation. It's a very real and positive step.
"The conviction in the Pembrokeshire cases is a real opportunity for the police to look at the personality profile of the convicted man."
Det Ch Supt Steve Wilkins said: "We have to deal in fact and evidence and there are interesting issues and some other deaths we will look at, but at this time no concrete evidence to connect him [Cooper] to other offences."
The inquiry into the Tooze murders was scaled down three years ago as police said all lines of inquiry had been exhausted.