War memorial plan for Ynysangharad Park, Pontypridd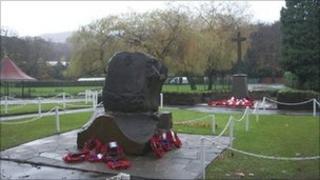 Plans to unveil a new war memorial in Pontypridd in time for commemorative events in November are on schedule, say organisers.
Thousands have been raised through a public appeal but more is needed to meet the estimated £80,000 cost.
The existing memorials in Ynysangharad Park will be the centrepiece for a roll of honour on two walls.
It will feature the names of all those who have died from Pontypridd in both world wars and other conflicts.
Michael Dauncey, of Rhondda Cynon Taf council (RCT), said: "The aim is to have it ready for November this year for Armistice Day and Remembrance Sunday. We've been working on this for a year.
"Some money was in the park's trust fund and there's going to be some direct contribution from the council itself, and we're obviously looking for as much as possible from the appeal.
"If we could get to around £20,000 then we would be pretty happy with that.
"We're currently on about £7,000 so still quite a way to go but we're confident about getting there."
Fundraising events are being held in the town, including tea dances and collections, and people can also make direct contributions.
A major part of the project has been putting together a comprehensive list containing the names of Pontypridd's war dead for the first time.
"There was no existing roll of honour. There was quite a bit of work compiling the list of names," said Mr Dauncey.
"We've used the Commonwealth War Graves Commission to generate a list for Pontypridd and we've supplemented this list with our own research and information from the public.
Benefit of freedom
"A lot of the names on the national roll of honour didn't have an address on them."
Almost 1,300 names have been compiled for the roll of honour, but RCT - trustee of Ynysangharad Park - and Pontypridd Town Council are urging people to get in touch if any further changes are needed.
Robert Bevan, cabinet member for culture, recreation and tourism, said: "It is so important that we never forget the biggest possible sacrifice that these people made so that we may all enjoy the benefit of freedom.
"Looking at a list of the almost 1,300 names will help us remember this on a continual basis."
Ynysangharad Park itself was opened in memory of the war dead, in 1923.
Fitting tribute
There are two memorials there, one to commemorate those who died in the world wars and another for those who were killed in the 1982 Falklands conflict.
Stan Power, county secretary of Rhondda and Pontypridd's Royal British Legion branch, said it was up to the public now to donate to create a new fitting tribute.
"I've got people coming to me every armistice, very very elderly people looking for wreaths for the Armistice Day," he said.
"Those people, they remember their friends and their elderly relatives who have gone. They were young men then. It's important for those people."