Fans ecstatic at Swansea City Premier League promotion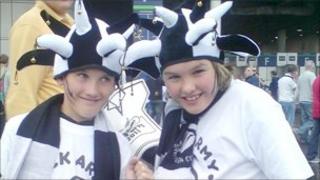 Forty thousand Swansea fans are celebrating after watching their team win a place in the Premier League, beating Reading 4-2 in the Championship play-off final.
As they streamed out of Wembley stadium after their historic win it was raining, but for the supporters who travelled up from south Wales the gloomy weather was the last thing on their minds.
The army of Swans fans were leaving in ecstatic mood.
Nicola Griffiths from Swansea said: "I was queueing last Sunday for tickets at half five in the morning. Everyone was saying if we win it'll just be outstanding. It'll be so uplifting for the city.
Matthew Dennis from Bonymaen: added "When they came back with the two goals after half time I was just so nervous. It's just gonna be massive for Swansea. No more than they deserve."
Mike Lorria, one of a contingent of 600 Dutch fans who were supporting the Swans, said: "We've got to go home tonight but it's going to be a big party all the way home. I've never been to Wembley before, it's something to cherish."
And Gareth Mullock, from Carway in Carmarthenshire, added: "Fair play to Reading. They came back well, but come on the Swans."
Fans ecstatic at Swans promotion
Much earlier in the day hundreds of coaches, cars and vans decked out in black-and-white flags and scarves travelled to London.
Among the early arrivals was Jan Willem Kerssies, from Beilen near Groningen in the Netherlands, who said he had been a Swans supporter since a documentary aired there eight years ago about their relegation escape against Hull.
"I've been to matches home and away. If you had told me eight years ago we would play in Wembley for the chance to go into the Premier League I would never have believed you."
With more than three hours still to go before kick off there was a carnival atmosphere on Wembley Way.
Swans fans came dressed in all manner of costumes from nuns in black and white to mannequins and jesters.
Fans from Wales were mingling shoulder to shoulder with those supporting Reading with no sign of any trouble
Former Swans favourites such as Leighton James were taking ages to navigate their way to the stadium due to the demand for autographs.
Phil Premble said his autograph from James was the "icing on the cake".
The air was alive with the sound of air horns and chants from the rival supporters.
Among the other famous supporters spotted outside Wembley was Llanelli-born, former Conservative leader Michael Howard.
Ben Adams, who drove up from Swansea with four friends, said: "We stopped off at the service station and it was like being in Swansea city centre. Every car was waving a flag.
He and his friends bumped into manager Brendan Rodgers' father.
He said: "He was quite calm and very confident.
Colin Miller, from Townhill, Swansea, travelled in a convoy of dozens of coaches.
He said it was "a really friendly family atmosphere". But he summed up how fans thought before the game: "It's just all about winning now."
Kizzi Parry, 16, from Swansea, saw both sets of players go in to the stadium.
She said: "The Reading players were doing the ayatollah (Cardiff salute)."
She predicted the game would be "three-one to the Swans". She was only two goals adrift.