S4C chair appointment Huw Jones approved by MPs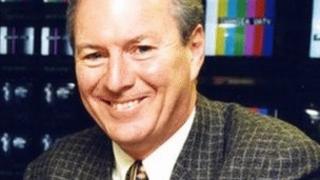 MPs at Westminster have approved Huw Jones's appointment as the next chair of S4C.
Huw Jones, a former chief executive of the Welsh-language channel, appeared before a joint hearing of the culture and Welsh affairs committees.
Mr Jones was announced as the UK government's preferred candidate earlier this month.
It is the first time a candidate for the post has undergone a pre-appointment hearing.
Both committees have criticised plans to fund S4C from the BBC licence fee amid fears it could jeopardise the channel's independence.
Welsh Affairs Committee chair Monmouth MP David Davies said: "We were concerned that, going forward into this new era for S4C, the new chairman must provide the necessary leadership and stewardship of a cherished national institution.
"Having questioned Huw Jones, we are satisfied that he demonstrates the professional competence and personal independence required for the post.
"We are keen to ensure that he maintains the necessary focus to tackle challenges ahead and move on from the issues and problems of the past."
'Reported its concerns'
Culture committee chair John Whittingdale, who had questioned Mr Jones about S4C's "pretty poor" viewing figures, said he had been "reassured" by the hearing.
"My committee also recently reported its concerns about how S4C can retain its independence under the new and hasty partnership arrangements with the BBC," said Mr Whittingdale.
"This pre-appointment hearing has reassured us that Huw Jones is a suitable candidate for the post.
"We hope that he can address the big issues of driving up viewing figures and clearly demonstrating S4C's value in its unique role as the national Welsh language broadcaster."
Mr Jones was chief executive of S4C from 1994 to 2005.