Concern at growth of hotels in Cardiff as Maldron opens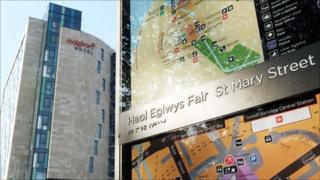 As Cardiff's newest hotel officially opens its doors, there is concern that there are not enough people to fill the city's growing number of beds.
There are an estimated 4,500 beds but many lie empty for too much of the time, say some hoteliers.
Cardiff currently attracts 18.6m visitors a year, which is almost double 1998's figures, but the number of beds is increasing at an even faster rate.
Four major hotels have opened in the past two years, and there also plans for a 216-bed Hampton by Hilton on Bute Street and a 236-bed Jury's Inn near the Millennium Stadium.
Bosses at Cardiff's newest city centre hotel, the 216-room Maldron Hotel which officially opened on Wednesday, are confident it will thrive.
But other hoteliers say the city should not rely so much on the Millennium Stadium, and a purpose-built convention centre is needed to attract business clients.
Derek Harvey, general manager of the Marriott Hotel and a former chair of Cardiff Hoteliers Association, said recent figures showed Cardiff's hotels were among the worst performers in Europe.
'Fantastic city'
"I'm confused why hotel investors would want to build and open hotels in a market that's been going backwards for three years," he said.
"Most of the time there are too many beds. When we have an event you can never have enough hotels but generally speaking, on a normal week [there are too many beds].
"Added to that is the public sector government cutbacks - there's conferences, conventions and that part is 30% down across the city."
He said the number of hotel beds had doubled in the nine years he had been in the city, and a major convention centre was the key to bringing in regular customers to fill those beds.
"It's a fantastic city Cardiff, with lots to offer but the one thing it's missing is a convention centre," he said.
He added that the Marriott had been protected to a degree by its "strong global brand".
David Myers, chief executive of Sleeperz which has a hotel near Central Station, agreed a convention centre was crucial for the city.
"We [Sleeperz] are a growth story but we can't ignore the fact the market is declining so there must be some [hotels] severely in trouble," he said.
Perhaps those who should be most affected by having so many hotels on their doorstep are the city's guest houses and bed and breakfasts.
However, Charles Mullins, owner of The Town House in Cathedral Road, said there was always a market for the more personal touch.
"I think we will get to a stage where there will be overkill with these hotels cropping up," he said.
"The only problem we have is in winter when the hotels drop their prices to our prices."
Marie Fagan, of Cardiff Hotelier's Association, said Cardiff continued to be a fantastic draw for visitors and the recent announcement to create a business district in the city would "help to raise the city's corporate profile".
There is also cause for optimism at the new Maldron Hotel, part of the Dalata Hotel Group which has 22 hotels across Ireland.
Pat McCann, Dalata chief executive, said: "Cardiff is an exciting place to be and I've seen a big development in the city since I first started working in it over 15 years ago.
"There's an air of vibrancy which I'm confident our team... will contribute to as Cardiff continues to establish itself as a business, leisure and tourist destination."