Welsh Bafta honour for actor Matthew Rhys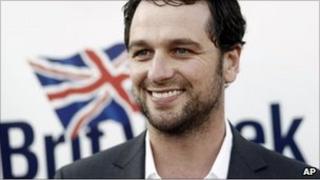 Hollywood actor Matthew Rhys is to receive a Bafta in Wales for his success on both sides of the Atlantic.
Rhys, star of US drama Brothers and Sisters, is being presented the Siân Phillips Award for his "significant contribution" to film and TV.
He said the award is a honour as it is named after the actress who played his "mam" in his first film in 1997.
The 20th British Academy Cymru Awards takes place at Wales Millennium Centre, Cardiff Bay, on Sunday.
Cardiff-born Rhys said the award "means an infinite amount more because it is her award", referring to the Welsh actress most famous for her portrayal of Livia in the BBC production I, Claudius.
The pair worked together on director Marc Evans' film, House of America, about a family in south west Wales struggling to cope after the father moved to the US.
It was made in the same year he won his first Bafta award for best actor in his role in the Welsh-language film Bydd yn Wrol (Be Brave).
World premiere
After his graduation from RADA, the Royal Academy of Dramatic Art, a string of TV and film roles followed including the costume drama Greenstone, adventure drama The Lost World, contemporary drama Metropolis, and the movie Very Annie Mary.
His break came in 2000 when he appeared with Kathleen Turner at London's Gielgud Theatre in the world premiere of the stage adaptation of The Graduate.
More recently he appeared in Patagonia which featured the debut of Welsh singer Duffy.
Rhys said: "Being recognised by those from home really does make it that much more special."
Bafta in Wales director Lisa Nesbitt said the Siân Phillips Award is given to a Welshman or woman who has made a significant contribution in either a major international feature film or network television programmes.
"Matthew has achieved both recently with his high-profile role in the much loved Brothers and Sisters - and as Dylan Thomas in The Edge of Love.
"We are very excited to be able to honour him in this way."
Bafta in Wales will not say whether Rhys will collect the award in person.
However, he is back in Cardiff in June, lending his support to Sherman Cymru which is raising funds for a £1.3m theatre refurbishment over the next 18 months.
Rhys, best friends with fellow Hollywood-based Welsh actor Ioan Gruffudd, also heads a campaign to raise £1m in a National Trust appeal to buy a farm in Snowdonia.