Conwy council to try to buy Colwyn Bay pier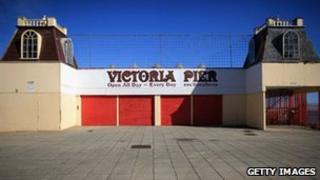 A deteriorating Grade II-listed Victorian pier which has been closed for nearly three years may be bought and restored by a council.
The move came after the council's cabinet committee met to discuss the pier's future.
The full council will be asked to endorse the decision due to the potential cost.
Welsh Assembly funding will be sought should the purchase be approved.
Conwy council's cabinet will start negotiations with a community group to put together grant applications so that work can start as soon as possible.
Before the meeting council acting chief executive Ken Finch said that the situation was "at the point at which some key decisions need to be made".
The pier has been at the centre of debates both in the local community and at Conwy council since its owner Steve Hunt was made bankrupt.
The pier was closed in 2008 after Mr Hunt was made bankrupt in a dispute with the council over business rates.
Mr Hunt said on Tuesday any attempt to buy the pier would be challenged.
The bill for basic renovation would be around £3.5m, it is believed.
It has been in the care of the bankruptcy trustees Royce, Peeling and Green Ltd (RPG).
Built in 1900, it was once a hub of Colwyn Bay's social life, hosting stars as varied as Morecambe and Wise, Ken Dodd, Harry Secombe, Motörhead, and Elvis Costello.
However, five years of work to restore it came to an end with Mr Hunt's bankruptcy order.
The latest discussions follow a series of reports and proposals considered by the council cabinet and a special committee set up to look into possible development of the pier.
It was revealed last month that councillors were told demolition of the pier would cost just over £1m, while renovation to provide a "basic pier" for use as a boardwalk could cost up to £3.5m.
Despite councillors rejecting the idea of demolition, Mr Hunt has been unconvinced.
"If you look at all the regeneration plans for Colwyn Bay - the pier is not there," he has said previously.
Contractors have begun the first phase of multimillion-pound plans to improve Colwyn Bay's coastal defences and promenade facilities.
Meanwhile, RPG has gone on the record stating a preference to sell the structure to a body set up to save it, called the Victoria Pier Pressure Group.
It has put forward its own proposals to renovate the pier as part of a social enterprise project for Colwyn Bay.
As part of that bid, a preliminary approach has been made to the Heritage Lottery Fund in an attempt to raised funding.
Clwyd West MP David Jones said before the meeting: "There is clearly a great deal of concern about the condition of the pier which is a worsening eyesore on the Colwyn Bay waterfront."
He said he hoped a "solution" could be provided by all parties concerned as "quickly as possible".