Support for 'Size of Wales' rainforest campaign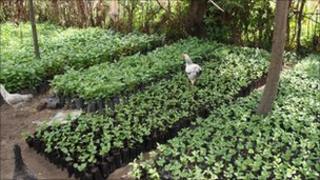 The Countryside Council for Wales (CCW) has added its support to a project to sustain an area of African tropical forest the size of Wales.
The "Size of Wales" scheme encourages people to do conservation work and make donations towards their running.
The announcement comes as the United Nations celebrates its International Day of Biodiversity.
The CCW said the campaign reflected its own commitment to tackling climate change.
The Welsh scheme is being funded by The Waterloo Foundation, an independent foundation based in Cardiff.
It donates grants to organisations in the UK and worldwide, and runs a forests programme targeted at avoiding deforestation in tropical areas in some of the world's poorest countries.
Roger Thomas, CCW Chief Executive said: "Whilst CCW's day to day focus is on conserving and enhancing the quality of Wales' natural environment, supporting the Size of Wales campaign reflects our commitment to taking our global responsibility seriously.
"In the face of climate change, it's more important than ever that we share expertise, knowledge and experience with other conservation projects around the world - offering a more joined-up approach for a truly sustainable future."
CCW is offering its own expertise to assess the community based projects and has pledged to promote those projects to potential funders.
Biodiversity
Staff at the Welsh Government sponsored body will be encouraged to adopt a Size of Wales project and muster funds for it via fundraising.
Hannah Scrase, project manager of Size of Wales, said: "We are delighted to have CCW on board.
"Many of our forest projects are located in internationally renowned biodiversity hotspots within Africa.
"We look forward to supporting the staff at CCW raise funds for a forest project of their choice, and hope both will develop a long lasting relationship."
Size of Wales projects are already being delivered by established UK charities. In most cases, they work in partnership with African non-profit organisations, providing technical support, monitoring, evaluation and reporting.
Three community organisations - in Pontypridd, Lampeter in Ceredigion, and Llandrindod Wells in Powys - are examples of groups working in Kenya and Uganda to help combat climate change.
The United Nations General Assembly has declared 2011 as the International Year of Forests to raise awareness of the importance of sustainable forest management.