Welsh schools' GCSE performances revealed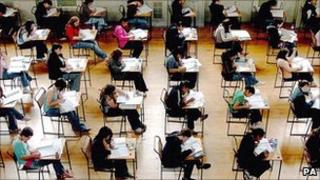 There are wide variations in GCSE results between schools the Welsh Government expects to be performing at a similar level, BBC Wales can reveal.
The Welsh Government places schools in "families" - groups of about 10 - where pupils have similar levels of family income and special needs.
In one case a school's results are 42% better than another in the same family.
The Welsh Government dismissed the tables as "extremely simplistic"
The details were obtained by BBC Wales under the Freedom of Information Act.
Following Friday's publication of schools' value added scores, it means BBC Wales has now made more information available on school performance than at any time since league tables were abolished in Wales in 2001.
Comparing exam performance within families of schools shows how a school measures up against others facing similar challenges.
It is considered to be fairer and more useful than ranking the country's best and worst performing schools based solely on exam results.
For example, Cowbridge High School in the Vale of Glamorgan and Hawarden High School in Flintshire, which both serve relatively affluent areas, are in one group - while Pen-Y-Dre High school in Merthyr Tydfil and Glyn Derw High School in Ely, Cardiff, which are both in relatively deprived areas, are in another.
The publication of the family groups gives parents access to information about their local school which is similar to the way it has been presented by the Welsh government to head teachers for the last two years.
Ambitious targets
Education Minister Leighton Andrews has said that from next year no school will pass an inspection unless its governors can prove they have analysed family of school data.
Mr Andrews hopes head teachers and governors will set ambitious targets for school improvement based on their performance against other similar schools.
He has said there is "systemic failure" in the school system and accused teachers of "complacency in the classroom".
In a speech in February, he suggested the Welsh government had its own plans to make some of this information public.
He said: "Data empowers people. "People need information on how their schools are performing.
"They also need to understand how their school is performing against the best in class.
"That doesn't mean a return to league tables. It does mean 'family of schools' data being available so that all schools can learn from the best in class and high standards can be set by heads and by governors."
BBC Wales has published details of the 20 family groups and two GCSE performance indicators for each school within them - the percentage of pupils in each school achieving five A* to C grades overall and also the percentage achieving five A* to C grades including the key subjects of English or Welsh and mathematics.
Both the Welsh and UK governments place an emphasis on candidates obtaining GCSEs in these subjects.
Below average
Overall, the percentage achieving this measure in Wales in 2010 was 49.4%, while in England it was 53.4%.
The information published by BBC Wales is not intended to present a definitive judgment on the performance of any given school and is based on the GCSE examination results of only the most recent year.
However, the publication of the results within family of school groupings gives parents more context than ever before when looking at GCSE performance at their local school.
For instance, the percentage of pupils achieving five A* to C grades including English or Welsh and Mathematics at Duffryn High School in Newport was 35%, considerably below the Welsh average.
However, the average within Duffryn High School's family group was just 31.6 %, which indicates it performed better than other similar schools.
The variation between the top and bottom performers within groups will be a concern for the minister, who has accused schools of "coasting".
The widest variation can be found in a family of schools with an average of 49.3% of pupils achieving five A* to C grades including English or Welsh and mathematics - 66% of pupils in Eirias High School in Conwy made the grade, while at Denbigh High School the figure was 24%.
The school has acknowledged the need for substantial improvement in English and mathematics at GCSE level and said there are strategies in place.
The NASUWT teachers' union said the publication of the league tables was a "reckless and irresponsible exercise".
The Welsh Government said Mr Andrews had made it clear that he wanted to raise school performance and standards and outlined how he would do it.
"Our policy on not publishing league tables is well-known," a spokesperson said.
"We do not believe that simplistic league tables have a role in the improvement agenda for Wales and that is why we scrapped them.
"This is an extremely simplistic league table ranking schools according to a single piece of data from one school year.
"To get a genuine view of a school's performance you need to take account of a range of data, look at progress and context - what the BBC have done simply does not reflect what any school improvement professional or teacher would recognise as an informed and rounded view of school performance."