Welsh badger cull reprisal worry prompts identity move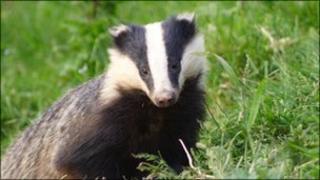 Members of the Welsh farming community believe a scheme designed to protect the identity of farmers involved in the English badger cull may work in Wales.
BBC Wales understands there are fears some of the 300 farms within a planned Welsh badger cull area may be targeted by animal rights activists.
Senior farming figures say there is an awareness that a way to avoid reprisals may be to conceal farmers' identities.
The Welsh Government said it had not yet had requests for such a move.
Cull proposals are different in England in that individual farmers may be allowed to carry out the cull under licence.
In Wales it would be carried out by Welsh Government contractors.
Farming unions in England say the security of their members is vitally important and they are considering advising farmers to set up private limited companies.
Disclosure requirements for those kinds of businesses mean farmers' details would not be as visible to the public.
Security cameras
Some animal rights groups have warned they will "hit farmers in their pockets" by damaging fences and buildings if they are involved in the proposed cull in Wales, although there have been no specific threats.
At present farming leaders say there is no plan to protect the identity of farmers whose land falls within the Intensive Action Area in Wales.
In March AMs backed a new cull proposal for parts of mid and west Wales.
It is claimed it will help tackle TB in cattle but conservationists say there are other solutions to the problem such as vaccines and tighter controls on the movement of cattle.
Farming unions in Wales have told members not to respond to phone calls asking them if they support the cull and some farmers have been advised to install security cameras and make sure they are known to the local police.
The Welsh Government said it had not had any requests from farmers in the cull area to protest their identity.