Third Star feature film lead role for Barafundle Bay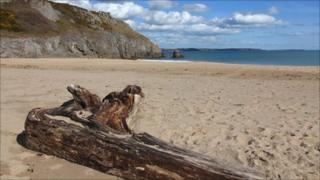 One of the most beautiful beaches in Wales takes centre stage in a new film whose writer-producer grew up nearby.
Third Star features Benedict Cumberbatch - best known as Sherlock Holmes in the recent BBC TV version - making a last visit to Barafundle Bay.
His character is dying of cancer, and he and three friends return to the Pembrokeshire coast of their youth.
The movie, also produced by Vaughan Sivell, from Penally, is premiered in Leicester Square, London, on Friday.
It tells the story of friends in their late twenties who return to the Barafundle Bay stomping ground of their youth, for a last hurrah before Cumberbatch's character, James, succumbs to terminal cancer.
"It's a story of how the bonds you make as a child, with people and places, never leave you, even if your life circumstances change," said Mr Sivell.
"The four friends are devoted to the coastline of their childhood, and to each other, but it takes a trigger like the tragic illness of one of them in order for them to re-evaluate their lives, and remember what's most important to them."
'Poignant question'
"I suppose it's centred in the angst which people in their late twenties feel.
"Their parents were married, settled down, and on the road to a career by 21 or 22, while their generation worry about what they've achieved with the first decade of adulthood: a question made all the more poignant by the fact that one of them is almost at the end of their short life."
The Pembrokeshire coastline is no stranger to the big screen, although in recent times it has tended to double for other locations, rather than as itself.
Freshwater West has doubled as a French beach in Ridley Scott's interpretation of Robin Hood, starring Russell Crowe.
It also masqueraded as the white cliffs of Dover in Harry Potter: The Deathly Hallows.
But Mr Sivell puts Barafundle Bay in a lead role as itself in Third Star.
He had wanted the film to be called Barafundle Bay, but was warned that the rest of Europe might struggle with the pronunciation.
It also features JJ Feild of Poirot and Northanger Abbey fame, and Tom Burke, who was in Donkey Punch and Casanova.
Producer Kelly Broad believes that the beauty of the area played a vital part in attracting such a host of stars to a debut film.
"At all times we were aware of what a magical place it was.
"Indeed, the crew still talk to me about it. Each day to wake up to the beautiful craggy cliffs, the nooks and crannies, the rolling hills and the wide sandy beaches, was pure bliss for film-making."
National Trust Wales, which manages Barafundle Bay, was a partner in the production, providing accommodation, transport and advice on local weather and conditions throughout the shoot.
It is a contribution which Sivell is keen to recognise, should Third Star become a box-office success.
"I was so pleased to be able to come back to Pembrokeshire and make a film there," he said.
"One of the best things, something you couldn't put a price on, was the help that I had because I was local.
"People were so kind and the National Trust couldn't have been more helpful.
"If we make any profits we will be donating some of them to the National Trust.
"I'm also hoping that we will be able to have an outdoor screening of the film at Stackpole this summer."