Wrexham railway station pony seen in hospital and pub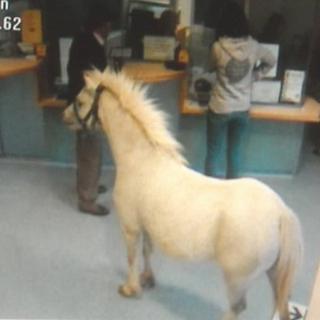 More images have emerged of places visited by a mystery man and his pony, including a hospital A&E department and a pub.
The animal was caught on CCTV waiting in line at the reception desk at Wrexham Maelor Hospital's emergency department.
Meanwhile, shoppers have also snapped pictures as the animal was led into a pub in Wrexham.
The RSPCA said it was concerned and was viewing CCTV tapes.
Retired teacher George Cawley, 62, was about to have a pub lunch with his wife last Friday when the man walked in "matter of fact" leading his pony.
He described it as a "crazy" scene which caused "uproar" among shoppers and customers, although the pony seemed relaxed and undistracted.
Mr Cawley explained after pub staff asked the man - and pony - to leave it was later seen tied up outside another pub in the town centre.
That was the same day the animal was taken into the A&E department where the man had asked for treatment for the animal from a doctor.
A health board spokesman added: "He was politely asked to leave the premises by the security guard and duly left, taking the pony with him."
A horse, similar to the description, was spotted on Thursday grazing near Wrexham Maelor Hospital's helipad.
It had first emerged the man tried to get on the train at Wrexham General station with the white pony in tow, but other sightings have since been revealed.
After a conductor refused him entry to a train, the man returned to the ticket booth where he tried to buy two tickets - for himself and the animal.
The man tried to travel on Saturday's 1902 BST service to Holyhead on Anglesey with his four-legged companion.
Arriva Trains Wales said horses were not permitted on safety grounds.
Meanwhile, the RSPCA said of the station incident it was "not a safe nor acceptable manner in which to transport an equine."
It added: "The RSPCA inspectorate are currently viewing the images which have been released to the media."