Restored Benarth Hall in Conwy on sale for £2.3m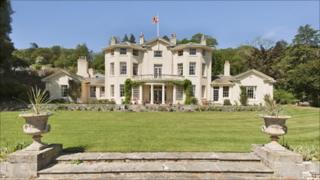 A restored Georgian mansion from whose grounds Turner painted nearby Conwy Castle has gone up for sale for £2.3m.
It is the first time that the Benarth Hall in Conwy, which dates back to 1790, has been on the market for half a century.
The Grade-II listed building also has royal connections.
Queen Victoria's favourite sculptor was born there in 1790 and in 1926 the then Prince of Wales, later Edward VIII visited.
Owners Mel and Elizabeth Herman have restored the property from a semi-derelict condition.
Their research has found that the house was probably designed by the architect Samuel Wyatt for Samuel Price of Lincoln's Inn.
In the early 1800s it was let as a summer retreat to Sir George Beaumont, who co-founded the National Gallery, and whose close friend poet William Wordsworth visited in 1798.
Sculptor John Gibson, who would become a favourite of Queen Victoria, was born on the estate in 1790.
But that is not its only claim to royal fame.
From 1914-33, its owner was Thomas Frederick Tattershall, High Sheriff of Caernarvonshire, who remodelled it in an Italianate design.
It was during his ownership that then Prince of Wales visited.
The Hermans took on the house in 1996 in a private sale.
The retired architectural consultant, said he was used to this kind of project but was still won over by the hall's proportions and scale.
He said: "It was constructed as a 10-bedroom mansion but it was too big for our use as a family. So we created two self-contained apartments in part of it.
"The rooms, while being spacious, are not cavernous. The visitors we've had over the years have all commented how homely it is despite its size."
The hall has a private drive through woodland and its grounds go down to Benarth Point on the river estuary, where Turner painted.
Mr Herman said they had mixed feelings about selling the mansion.
"We will be sorry to leave it. It's part of us now but things move on. We're just hoping that the person who takes over will have the same enthusiasm, respect and care for the property."
But the couple are not planning to move far.
They plan to keep 12 acres of grounds, including a two-acre walled garden, which they will have to restore as a condition for building a new house.
Mr Herman said: "We love the position that we live in, which is why we're staying.
"We're hoping that we'll still be able to enjoy the area if not the main hall."