Swansea City 'need to budget' for life in the Premier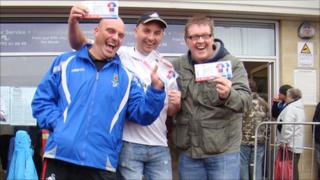 Swansea City have been warned not to make short-term financial moves if they win promotion to the Premier League.
The prospect of an all Welsh Championship play-off final at Wembley disappeared when Cardiff lost three-nil to Reading.
The Swans will now face Reading on 30 May and promotion would mean an estimated £90m jackpot.
Tickets went on sale to season ticket holders and supporters' trust members on Wednesday morning.
Hundreds queued outside the Liberty Stadium which is expected to see a busy week with the rest of the club's 40,000 ticket allocation going on general sale on Friday.
A football industry expert said Swansea will need to budget carefully if they make the leap.
"Getting into the Premier League should never be a bad thing," said Dr Rory Miller of Liverpool University's Football Industry Group .
"The problems start when clubs take short term measures; over-paying on transfers and wages, on the promise of still greater prizes."
In recent years, Leeds United, Southampton, Norwich City and Charlton Athletic have all dropped into the Championship and down again to League One after over-extending themselves trying to stay up.
If they get into the Premiership Swansea will want to avoid joining that unwanted list and a repeat of financial difficulties they have experienced in the past.
Swansea almost went out of business in 2002 before owner Tony Petty was bought out by a local consortium who have helped steer the Swans through the football pyramid.
On top of earning £32m per season just for reaching the Premier League, successful clubs will receive £500,000 for each place in the league plus a guaranteed £16m for two seasons should they be relegated, and further £8m for two seasons after that.
Dr Miller is worried though about the amounts being spent on wages.
"Swansea's accounts for the 09/10 season show worrying signs," he said.
"Swansea spent £8.3m on wages out of a turnover of £10.1m, although even this is way way above the Premier League's recommendation that no more than 50% of turnover should go on wages."
He said the trick to staying financially sound is to accept the prospect of relegation, budget accordingly and invest the windfall wisely.
Graham Morgan from the south Wales chamber of commerce said having a Premier League club in south Wales would boost the economy.
"A study in Blackpool this year indicated that the Premier League factor added £500m to local businesses - and that's in a town which is already entirely focused on tourism and leisure," he said.
"Where you will notice the difference is in the national and international exposure south Wales will get.
"The global audience for the Premier League is on a different planet to test cricket, and even the Ryder Cup."
Meanwhile, a former police officer has admitted the prospect of not having to transport rival Swansea and Cardiff fans to Wembley will relieve a logistical nightmare.
Segregate
Barry Hawkyard, a former superintendent with Greater Manchester Police, said: "At football matches, it's just a small minority of idiots who try to ruin a good day out for everybody by finding somewhere out of view of the camera to have a scrap and cause mayhem."
The bank holiday final could still present problems with Swansea and Reading fans converging - either on the M4 or on the Swansea-London train line, he added.
"It will be a headache for British Transport Police with fans on the trains but the coach companies should have it all planned out.
"The police will have told them where to go and which service areas not to stop at because some have been known in the past as battle grounds for opposing fans.
"The Met will have it sorted and will know to segregate opposing fans where they can."