Pembrokeshire tidal power study by universities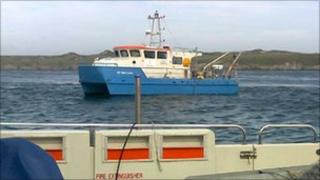 A number of Welsh universities are teaming up to test whether parts of the Pembrokeshire coastline have the potential for renewable marine energy.
Operation Celtic Odyssey will see an environmental assessment of the St David's peninsula and the adjacent coastline around Ramsey Sound.
The area has already been identified by the Welsh Government as a potential site for tidal energy generation.
Cardiff, Swansea, Aberystwyth and Bangor universities are taking part.
Pembrokeshire College is also involved in the two-week project to study the environmental and engineering impact of placing a turbine underwater between the mainland and Ramsey Island.
The work comes under the guise of a consortium combining the expertise of the various universities as the Low Carbon Research Institute or LCRI.
With a significant tidal flow off the coasts of Anglesey and west Wales, there is great potential in Wales for renewable marine energy.
Operation Celtic Odyssey is a collaborative research programme, using surveys, monitoring techniques to assess if Ramsey Sound, with a fast tidal current, would be suitable for a commercial energy development in future.
Two research vessels are being used: Noctiluca, from Swansea University and Cardiff University's Guiding Light, skippered by Dr Chris Wooldridge.
Swansea University's Dr Ian Masters, a lecturer in mechanical engineering and principal investigator of the research, said: "The team will be observing marine wildlife, undertaking 3D modelling of the seabed and turbulence, studying fish behaviour and measuring background noise."
The teams in their makeshift laboratories in St Justinian harbour, near St David's, will also look at how a tidal energy scheme might affect local populations of harbour porpoises, seals and seabirds.
With wind farms, the most widely used form of renewable energy, tidal energy is attracting interest, and several companies will visit Ramsey Sound to see the work of the universities.
Several companies, including some from the energy sector and a representative from Tata Steel, are keen to see how viable tidal power could be, and how soon it could become commercial.
Dr Wooldridge is Operation Celtic Odyssey's scientific officer.
He said: "Efforts to de-carbonise the country's electricity supply raise the question of where energy will come from in future years.
"Energy debates are invariably passionate in nature whether they surround nuclear, conventional wind or marine power.
"Celtic Odyssey is well placed to make a substantive contribution to the debate on tidal power and base that on evidence."