Welsh police voice fears over budget cuts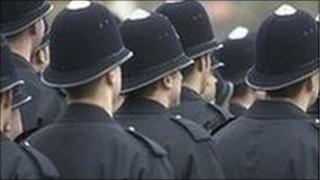 Police officers in Wales have voiced concerns about the effect UK government cuts will have on crime and public service.
A Police Federation survey among officers in the four Welsh forces claims 99% say morale has fallen.
It is estimated 1,600 police jobs in Wales could be lost.
But the Home Office said the priority was to deal with the budget deficit and the police had to make their share of the savings.
The four Welsh forces face budget cuts due to the UK government's spending review announced last October.
Ministers intend to reduce the amount they spend on the police by 20% over the next four years.
South Wales Police faces a £47m funding gap over the four years which equates to 688 officers and staff whose jobs could be lost.
The Police Federation said virtually all the officers who responded to the online survey said morale had dropped because of the planned cuts.
They said the possibility of a reduction in officers and possible changes to their terms and conditions, would also impact upon the service they could provide.
Gary Bohun, chair of South Wales Police Federation, said the message from police officers in south Wales was "loud and clear".
"They feel they are being hit from all sides by this government who, in addition to attacking their terms and conditions, are imposing a 20% cut on the service which will undoubtedly lead to increased levels of crime and a poorer service for the public in south Wales."
Richard Eccles, secretary of North Wales Police Federation, said: "The federation is not opposed to change and accepts that policing must play its part in public sector cuts.
"Cuts of this magnitude are criminal and, despite the very best efforts of dedicated local police officers, my colleagues policing the communities of north Wales feel such cuts will undoubtedly lead to a poorer service for the residents and businesses in north Wales."
Dr Colin Rogers, a reader in police sciences at the University of Glamorgan, said the cuts would lead to fundamental changes in frontline policing.
He told BBC Radio Wales: "The cuts that the police are talking about are absolutely enormous and I think it's a major change in the philosophy of how policing is going to be delivered in this country."
John Davies, chair of finance for the Dyfed-Powys police authority, said the force needed to immediately identify savings of £11m, with a possibility of that rising to £20m over four years.
He said natural wastage had helped and the force was now looking at backroom staff.
"There's very little point in having 1,200 police officers...unless you have a back office function that can support them on the streets.
"The commitment is to leave frontline policing alone but we really need to know how greatly the government intends to accelerate their process of cuts, especially in the latter part of this period.
"Losing the best part of £20m equates to 25% and will take us back 20-plus years."
But policing minister Nick Herbert told BBC Radio Wales the notion of 20% budget cuts was not the true picture.
"Forces raise money from local precepts and if you look at a force like Dyfed-Powys, then actually the cuts in real terms to their budget over four years, taking into account inflation, is 14% and that's only if they freeze precepts every single year," he said.
"Across the country around one fifth of police officers are not on the frontline which means something like 30,000 officers - that's an example of how savings can be made."
Tackle bureaucracy
It was up to chief constables to identify where to cut, but sharing services like IT or outsourcing custody. could help with "redesigning" the service and could even improve it.
A Home Office spokesman said: "The government's priority is to deal with the budget deficit and as a service spending £14bn a year of public money the police can and must make their fair share of the savings.
"Changes to police pay and conditions have been recommended by an independent review and are being discussed in the Police Negotiating Board.
"We are confident that the police service can maintain the drive to cut crime while becoming more efficient, and we are helping officers by tackling bureaucracy, sweeping away targets and restoring professional discretion."