Pharmacies' free tests to tackle undiagnosed diabetes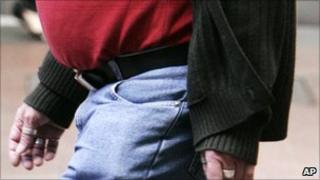 Every pharmacy in Wales is to offer free risk assessments for the most common form of diabetes to try to find the thousands of people who are undiagnosed.
The assessments aim to identify people who are at risk of developing the condition over the next 10 years.
It is believed some one in fifty people in Wales, about 66,000, have undiagnosed diabetes.
The scheme runs for two weeks from Monday, 13 June.
Dai Williams, national director of Diabetes UK Cymru, said: "Diabetes is increasing rapidly in Wales and it is terrifying that one in 50 people here are thought to be living with undiagnosed diabetes.
"I would urge everyone concerned about whether they are at risk to visit their local pharmacy in mid June for a free assessment.
"The sooner diabetes is diagnosed, the sooner it can be controlled and the risk of its devastating complications, such as heart disease, strokes and kidney disease, reduced."
The assessments look at risk factors such as body mass index, waist size, ethnicity and family history.
Where appropriate, those at risk will be advised how they can reduce that risk by improving their lifestyle.
Those identified by the assessments as most at risk will be referred for a diabetes test.
The vast majority of people with diabetes in Wales have Type 2, which is often associated with being overweight.
The campaign has been organised by Diabetes UK Cymru and Community Pharmacy Wales.
A similar initiative in 2009 saw more than 20,000 people undergo assessments.