Richard Burton's womanising, by biographer Tom Rubython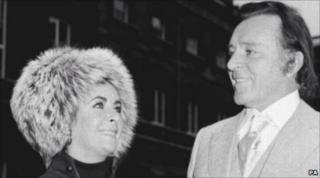 Welsh screen legend Richard Burton's playboy lifestyle led to extraordinary risks to engineer liaisons with women, says a new biography.
And God Created Burton, published on Sunday, says he was continually unfaithful to his first two wives, Sybil Burton and Elizabeth Taylor.
Writer Tom Rubython, called Burton a "magnet to women", estimating the star slept with 2,500 women.
But despite flaws which included drink, he says Burton was very generous.
Rubython said: "He had this extraordinary pull. Even the ones who tried to resist him admit it was very hard to."
Rubython said Burton, who died in 1984 and was married five times - including twice to Taylor - went to great lengths to meet women.
Opportunities arose when he was staying with Sybil in a cottage in the grounds of the home of Hollywood actor Stewart Granger, who was married to actress Jean Simmons.
"There was this wood shed that had access to the main house," said Rubython.
"Burton used to take all the wood out so he could get through the flap into the house."
He would then meet Simmons, who slept in a different bedroom to her husband.
"He would put all the wood back once he left," said Rubython.
Highest-paid actor
Of Burton's turbulent romance with Taylor, who died earlier this year, Rubython said: "He was the great love of her life but she wasn't the great love of his life.
"He was truly fed up with her by the end."
The 896-page biography runs to more than 300,000 words and is billed as the most detailed account yet of Burton's life.
Rubython, a journalist and author who specialises in business and sport, decided to write about Burton while researching a biography on motor racing driver James Hunt.
Hunt's wife Suzy became Burton's third wife and Rubython believed parts of the Burton story had not been fully told.
The book focuses on three main areas of Burton's life - his personal life, his finances and his acting career.
Rubython claims the miner's son from Pontrhydyfen, near Port Talbot, was easily Britain's highest-paid actor, earning $75m in his career which in today's money would equate to almost $500m.
The book looks at Burton's earnings and how he "lost most of it in his four divorces".
Rubython said he did not find it difficult to understand why the Burton story still captivated the imagination, even 27 years after his death.
"The man was such a dynamo. Every minute of his life was like a saga, every second was action packed... women, drink, acting, Broadway, West End.
"He was Britain's greatest all-round actor taking into account earnings, money, fame.
"In my opinion, he was the greatest Welshman. He was certainly the most famous Welshman ever - he eclipses Tom Jones."
Rubython said despite a darker side involving womanising and alcohol, Burton was an extremely generous man.
"He gave such a lot of money away to his family and friends," he said.
"He had this big Welsh family and he supported them and he kept in touch with them."
Rubython's book signing tour includes WH Smith in Queen Street, Cardiff, and Waterstone's in Swansea on Monday.