Coalition maker who led party through highs and lows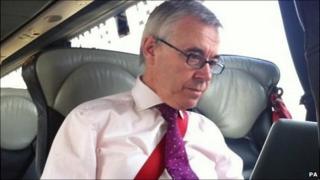 After more than 80 years in opposition, Plaid Cymru was led into government in 2007 by Ieuan Wyn Jones.
But four years later he led the party to its worst showing at an assembly election.
It is a big turn around in fortunes for a political survivor, who nearly became first minister at the helm of a three-party coalition in 2007.
With 11 seats in the assembly, Plaid is reflecting on an election campaign that has been criticised for being too negative.
The party has decided it needs to regroup and rethink. Mr Jones will make his contribution to that process by making way for a new leader at some point in the next two-and-a-half years.
Born in Denbigh in 1949, he was educated in Pontardawe and Liverpool. He is married to wife Eirian. They have three children and four grandchildren.
He was a solicitor before becoming MP for Ynys Mon in 1987 and became the AM for the same seat in 1999.
He took over as president of Plaid Cymru in 2000, replacing Dafydd Wigley when he stood down because of health problems.
Mr Jones dramatically resigned after Plaid lost five seats at the 2003 election amid accusations of a plot to oust him.
'Historic moment'
At the time, he said of himself: "I'm a fighter, not a quitter."
And so he proved. Later that year he was back in charge of Plaid's assembly group and in 2006 he regained overall control of the party.
Perhaps he is not the most charismatic politician in the assembly, but he has showed himself to be a pragmatic leader, able to steer a course between the various wings of his party.
After the 2007 election Plaid negotiated a coalition deal with the Conservatives and Liberal Democrats that would have made Mr Jones Wales's first minister.
When the rainbow coalition fell apart Mr Jones started talking to Labour. Agreeing the One Wales coalition deal was a historic moment for Plaid Cymru, which had hitherto only known opposition.
It meant Mr Jones had to settle for being Rhodri Morgan's deputy instead of taking the top job. But there was a big consolation prize on offer - the cherished goal of a referendum to give the assembly direct law-making powers.
On entering government in 2007 Mr Jones reflected on "a remarkable journey for me" after leading his party "through a very difficult period".
In government he was responsible for policy on transport and the economy at a time of a world-wide economic crisis. He oversaw reform of the way the devolved government deals with businesses, but he also had critics within Labour who questioned his ability.
Announcing the timetable of his departure, he pointed to the successes his party sought in last government, including strengthening the position of the Welsh language and the transformation of the assembly into a "proper law-making parliament".
But Plaid failed to capitalise electorally on its time in office, losing four seats at last week's election.
It leaves Plaid facing some big questions. Why did voters shun the party after four years in power? Why did it do so badly when the Scottish nationalists did so well?
Now it has a further question to ponder. Who should be in charge?