Literature Wales also aims to aid tourism through books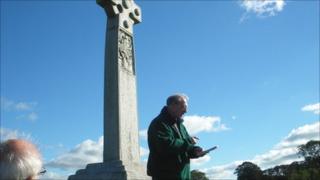 You've read the book about Wales, now see the country.
That is the message from Literature Wales, as it launches a series of tours to showcase the locations made famous by best-selling authors.
It believes one key to tourism is to kindle the imagination for places and people celebrated by iconic writers.
Eight summer excursions include a mix of walking and bus tours in English and Welsh dealing with the backdrops of authors like Hedd Wyn and JRR Tolkien.
The star attraction this year is a personal guide by Owen Sheers around the setting to Resistance, his 2007 World War II novel which is also in production as a film.
It is based on an alternate history following the failure of the Normandy landings, and a successful counter-attack and invasion by Nazi Germany.
It centres around Sheers' home town of Abergavenny, and even though it describes fictional events, it draws heavily on the sights and sounds of the area.
Peter Finch, chief executive of Literature Wales - formerly Academi - said: "Our main motivation is to promote the literature of Wales and to inspire new writers; but our interests are shared with so many others.
"If we can bring in tourists and boost the local economies while we're at it, then all the better."
'Extremely nervous'
He believes the combination of actual places and imaginary circumstances has helped to popularise the tours.
"Last year I was extremely nervous when we ran a tour based on Raymond Williams' novel, Border Country, taking tourists to an empty piece of countryside which was the setting for a fictional signal box," he said.
"But I'm happy to say that I was totally wrong.
"I'd completely under-estimated the power to inspire of the Welsh countryside, the writings of our authors and the imaginations of the readers."
"I think often Welsh people hide our lights under a bushel, valuing our own literature, but ignoring how important it also is to people from outside Wales.
"Our tours have been taken up by people from all over the world; some who are serious critics, but others who know virtually nothing and go away with a thirst to read more."
Tours run from May until the end of September, and also include a look at the Black Mountain landscape which inspired Tolkien's Middle Earth, Chris Meredith's guide to the Table Mountain of his poetry, and a look at the Rhymney Valley through the eyes of Idris Davies.