Mabey Bridge wind turbine factory opens in Chepstow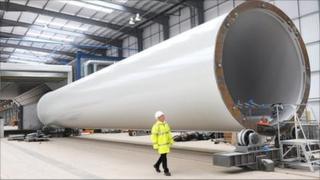 A factory building towers for wind turbines is being officially opened in Monmouthshire.
Mabey Bridge says it has invested £38m and created 240 jobs at its site in Chepstow, which is capable of producing up to 300 towers a year.
UK Energy Minister Charles Hendry will open the factory on Thursday afternoon.
Meanwhile, wind turbine company Vestas announced plans on Wednesday to build a new factory in Kent, creating 2,000 jobs.
Demand for clean and renewable sources of power continues to grow, but harvesting energy from the wind can be controversial.
A number of small communities in Powys and Ceredigion are fighting plans for new wind farms in mid Wales, and proposals for an electricity substation and dozens of pylons.
On Tuesday, Montgomeryshire MP Glyn Davies led a debate in Westminster Hall in London about windfarms in the region, and he claimed that plans for hundreds of turbines would "totally destroy" the area.
The new factory in Chepstow marks a move by bridge manufacturers Mabey Bridge into the renewables sector and makes the company the only UK-based supplier of wind turbine towers.
Company managing director Peter Lloyd said: "No longer will companies in this country have to import wind turbine towers but instead they can now buy British.
"Our expertise and pedigree in bridge building is the perfect springboard for us to deliver half the UK's wind turbine towers."