Estate agent Chris John's partner Gill Clemo faked will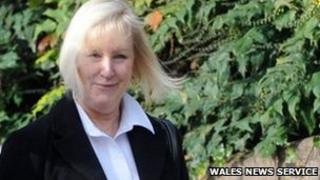 The partner of a millionaire estate agent has been found guilty of using a fake will after he died when she learned his divorce was not finalised.
Gillian Clemo used the document after Chris John died of a brain haemorrhage.
Newport Crown Court heard that no will could initially be found during the month after his death until Clemo, 57, "miraculously" claimed to find one.
The judge told her she would not be facing custody and adjourned sentencing until next month.
When Mr John, 47, died suddenly in September 2008, he left an estate of £5m.
The court heard that it included a property portfolio, luxury cars including an Aston Martin and a Porsche, along with a valuable collection of World War II medals.
The court was told that days after hearing that his divorce had not been finalised, and his wife Helen John stood to inherit his fortune, Clemo, claimed she had found a will at the home they shared in Cardiff, while searching a box of mementoes.
That will was a fake, the court heard.
It had Mr John's daughter's name spelled incorrectly, fake signatures and the timing of its discovery was "extraordinary".
In turn Mrs John, 48, then forged an extra addition to the will, and police were called in to investigate.
At a previous hearing, John Philpotts, prosecuting, said: "After she was arrested Mrs John admitted falsifying the document and she received a police caution.
Police caution
"But following the investigation into Mrs John, police began to look into her suspicions that Clemo's document was a fake.
"She was later arrested and charged."
The court also previously heard that Clemo collapsed on the floor when Mrs John discovered that there had been no decree absolute to end her marriage - despite the pair being separated for more than seven years.
Three days later, Clemo produced his "will" in the hope she could stay in the house.
Mr Philpotts told the court a handwriting expert had also concluded that Mr John's signature was a forgery.
The forged will said that his inheritance would be held by executors until his teenage daughter reached the age of 27.
Defending Clemo, Charles Row told the court that Mrs John would do anything to gain control of her husband's estate which he said was worth "millions".
But Mrs John said in evidence: "I wanted to look after my daughter. I clearly feel I have a right as a mother to have an input into her life."
Referring to her own forgery, she said: "It was a criminal offence and I wasn't thinking clearly - I know I did wrong."
Clemo will be sentenced next month.