Archbishop of Cardiff George Stack 'should learn Welsh'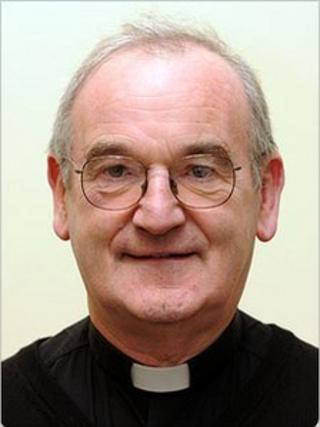 The editor of an influential Catholic magazine has called on the newly-appointed Catholic Archbishop of Wales to learn Welsh.
Catherine Pepinster said the people of Wales would be "delighted" if he could master the language.
The Rt Rev George Stack said it was a legitimate request and he would do anything he could to meet expectations.
Prominent lay Catholic Dr Harri Pritchard-Jones said his attitude to Wales' culture was most important.
In the blog entry on The Tablet, Ms Pepinster writes: "The popularity in Wales of the previous archbishop, Peter Smith, also an Englishman - shows that nationality need not be a bar to effectiveness.
"But there is one major issue about appointing a non-Welshman to a Welsh see - and that's language."
She continues: "Any Catholic is an ambassador for their faith, and an archbishop with his public role is even more so."
She said he would be doing the nation a "great courtesy" by learning their language and choosing to engage with the culture in a "very special" way.
"So as someone with Welsh roots, I would say to him: learn Welsh, and the people of Wales will be delighted."
Bishop Stack, auxiliary bishop in Westminster, will be the seventh man to hold the post when he takes it up in January 2012.
He will succeed Archbishop Peter Smith, who was installed as Archbishop of Southwark last year.
Cultural role
He told BBC Wales the call for him to learn Welsh was a "legitimate request".
"I'm open to whatever is the most effective way of using my time and energy in the service of the church and the people of Cardiff and of Wales.
"I will be prepared to do anything I can to meet their expectations and demands.
"I would need to get to Cardiff to assess the situation and make time available before making any commitments though."
Dr Pritchard-Jones, also a Welsh-speaking author, said the desire for Bishop Stack to master the language was heightened by the imminent retirement of Wales' only remaining Welsh-speaking Catholic bishop, Bishop Edwin Regan of Wrexham.
He said: "It's not the matter of having an Englishman in the role as that has happened before, but it should be somebody who takes part in the culture.
"I have heard that Bishop Stack has an ability with languages which could obviously help.
"I think it is the attitude to the culture that is most important."