Pembrokeshire tidal power impact studied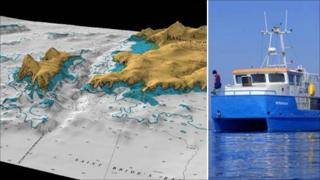 Scientists are to investigate the impact tidal energy generation could have on Pembrokeshire's marine environment.
Experts from five Welsh universities will spend the next few weeks on two research vessels off St Davids.
A trial of newly-designed underwater generators powered by the tide is to take place in the area.
The 25 scientists aim to establish how such schemes may affect porpoise, seals, seabirds and their environment.
Operation Celtic Odyssey will see experts from Swansea, Cardiff, Aberystwyth, Bangor and Pembrokeshire join forces.
They say Swansea University's research vessel Noctiluca and Cardiff's Guiding Light will act as floating laboratories and offshore classrooms for survey and monitoring.
The team will observe marine wildlife, undertake 3-D modelling of the seabed and turbulence, study fish behaviour and measure underwater background noise.
Research staff will include hydrographers, marine biologists, engineers, marine archaeologists, and ornithologists.
Dr Chris Wooldridge of Cardiff University said they would make an independent and impartial assessment of the likely affects of tidal generation.
He said there was huge potential for tidal power off Pembrokeshire, around Anglesey and in the Bristol Channel.
But he said it was vital to establish whether it would be environmentally sustainable.
"The Welsh Government is committed to renewable energy but how many more wind farms can be accommodated?" he said.
"We've got to look at alternatives.
"Energy debates are invariably passionate in nature whether they surround nuclear, conventional, wind or marine power.
"Celtic Odyssey is well placed to make a substantive, evidence-based contribution to the debate on tidal power."
Because the area around the St Davids peninsula is fully exposed to the storm waves of the Atlantic and has major tidal streams it has been identified by the assembly government as a potential site for tidal energy.
Earlier this year Cardiff-based Tidal Energy Ltd was given the go-ahead by ministers to test its new DeltaStream underwater generators off the coast for a 12-month trial.
The 1.2MW project at Ramsey Sound features three generators that sit on a triangular frame and the company said it would generate enough electricity to power up to 1,000 homes.
Dr Wooldridge said the environmental research, organised by the Low Carbon Research Institute, would work with the company but provide an independent assessment of any impact.